CCTV and many other media focus on intelligent manufacturing, Topstar again by the attention
2022/06/30 By topstar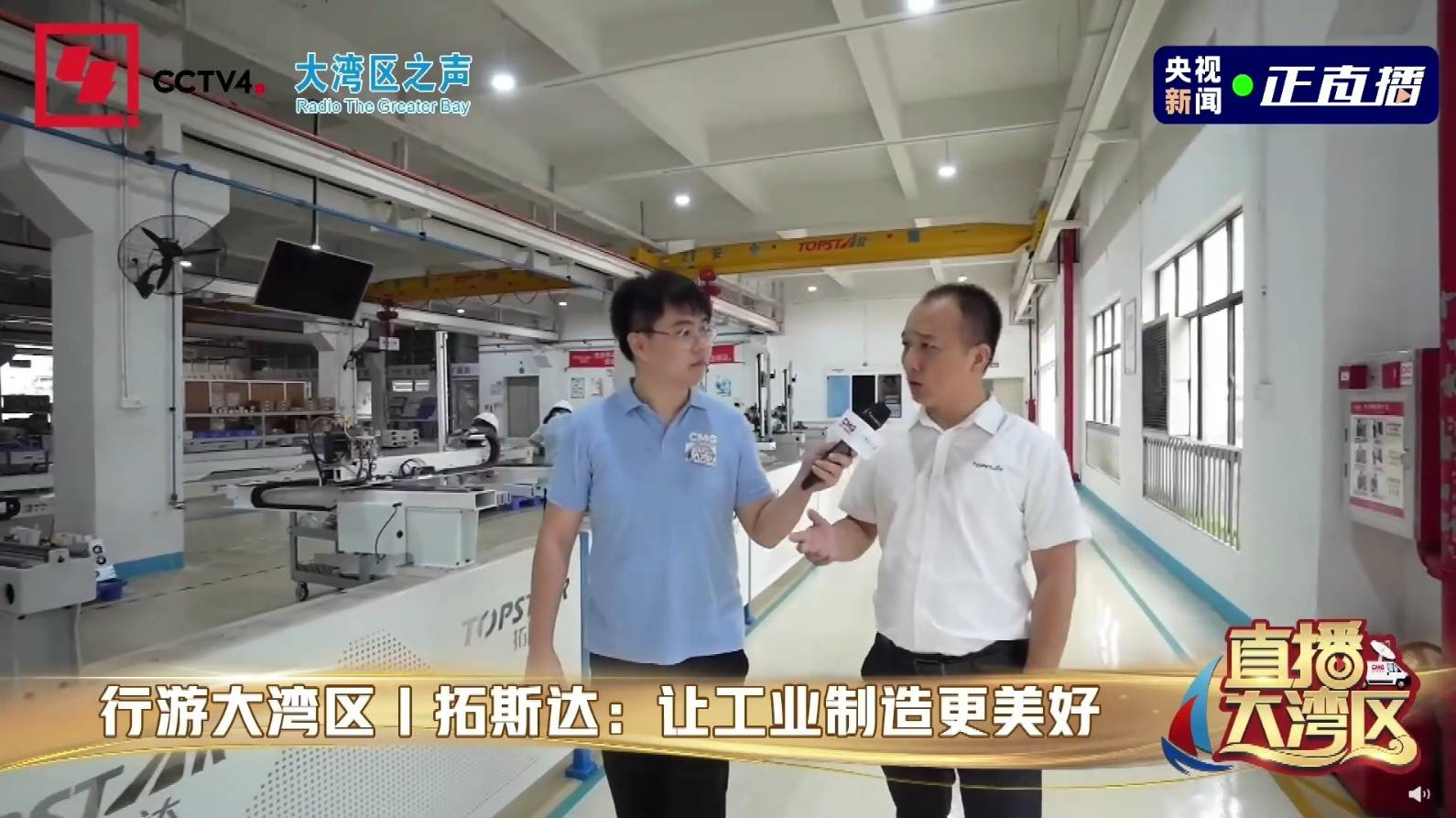 Focus on intelligent manufacturing
In recent years, the development of the Guangdong Hong Kong Macao Bay Area has become a hot topic. Dongguan, a "manufacturing city," has also attracted much attention. Topstar is one of the representative enterprises in the intelligent manufacturing field in Dongguan. to the Central Radio and Television, Guangdong Economic Science and Education Channel. The Information Times and much other media attention reported.
01
CCTV "Live in the Bay Area" into Topstar, feel the charm of intelligent manufacturing
On June 26, 2022, the media report of China Central Radio and Television (CCTV) "Live in the Bay Area" was broadcasted in Dongguan. The project team visited Topstar headquarters. Understand Topstar's exploration and achievements in intelligent manufacturing. And demonstrate Dongguan's technological strength from "manufacturing" to "intelligent manufacturing."Accompanied by Mr. Zhang Peng, general manager of Topstar Robotics Division, and Mr. Chen Haofu, a reporter from the central station. Visited the headquarters of Topstar to understand the company's founding intention and business layout, technical achievements, and industry contributions.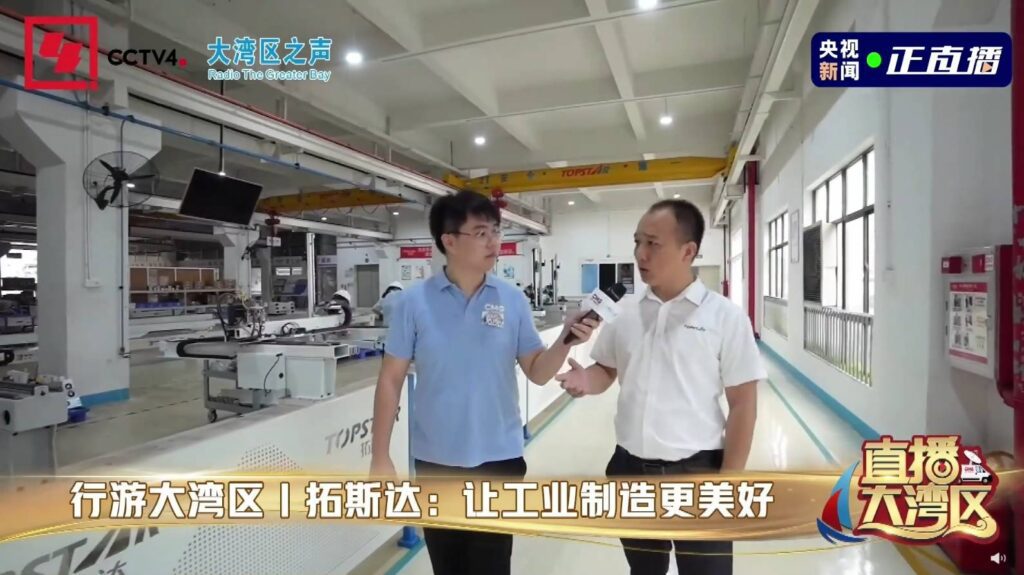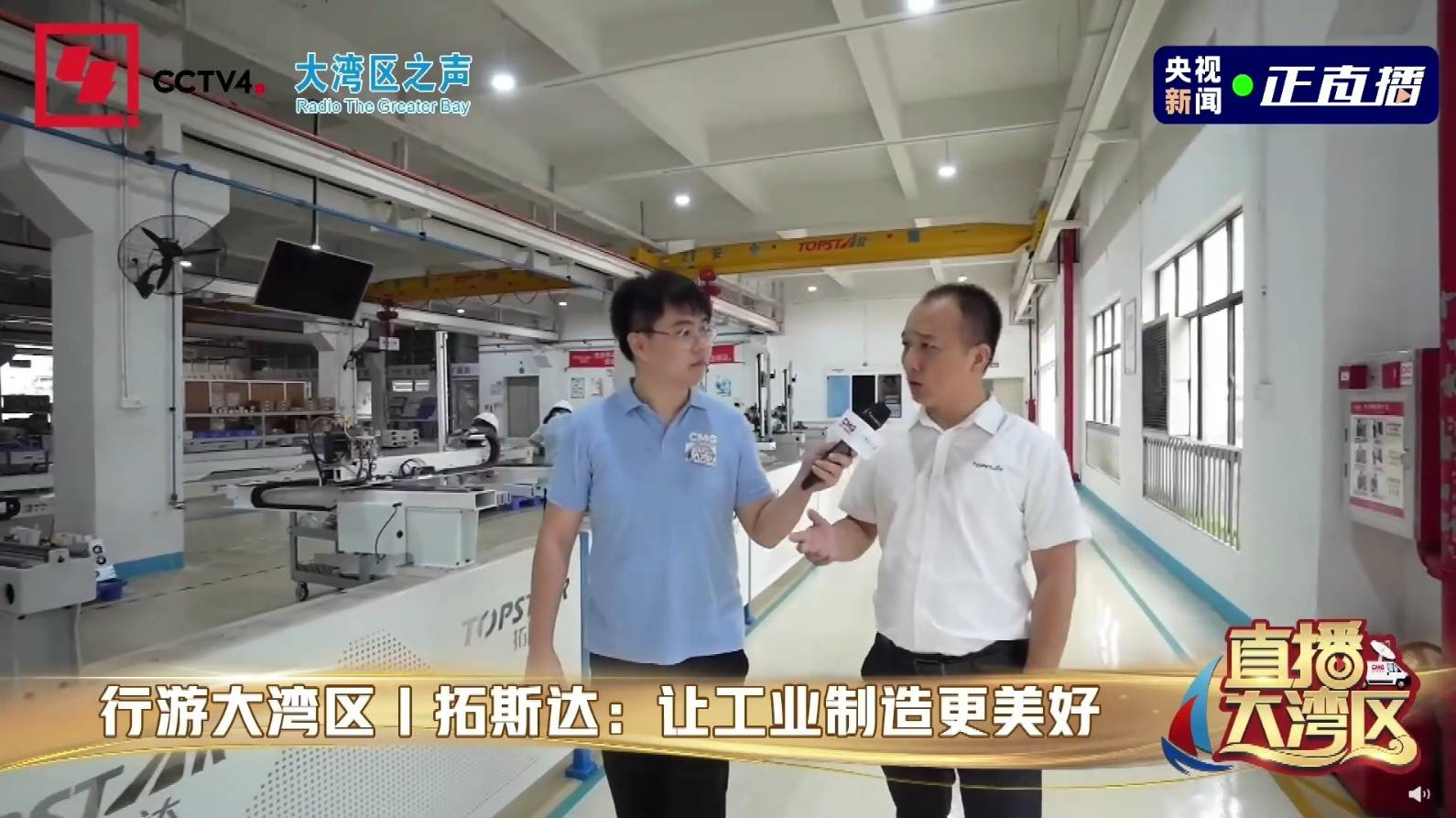 The reporter focused on understanding the Topstar industrial robot production testing in the robot production workshop. Technology development and application scenarios. Mr. Zhang Peng said. "We want to solve the problem of the core technology of high-end equipment in China. Let more enterprises use cheap and good quality robots to free workers from dangerous, boring, and harmful environments." In 2011, Topstar successfully launched the first self-developed robotic control system. Thus realizing the domestic replacement of robots, reducing product costs, and reaping a good market reputation.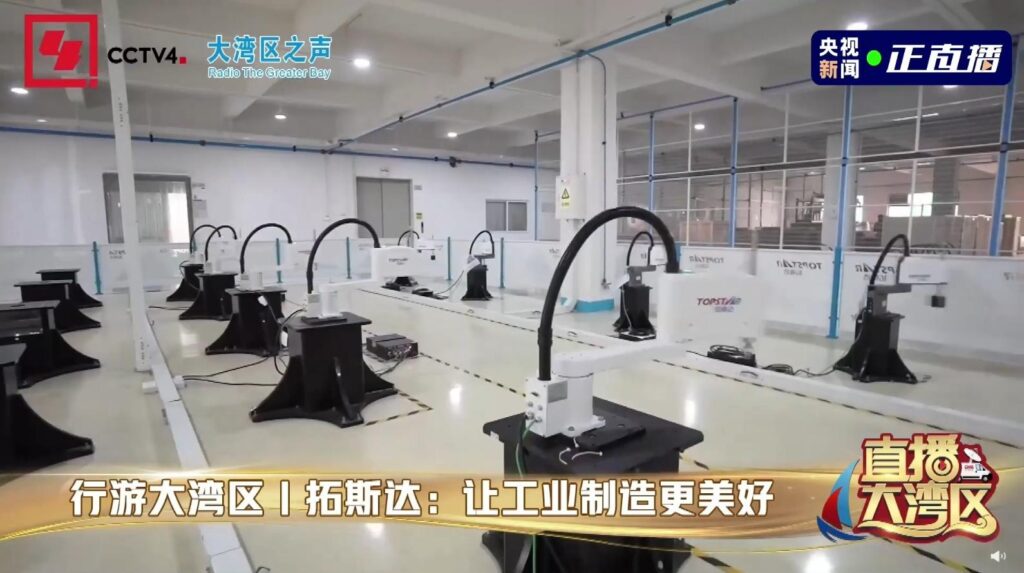 Topstar has SCARA robots, six-axis robots. Delta parallel robots and collaborative robots series of products to meet the customer's import to domestic "low-cost" brand switching needs. In the exhibition hall, Mr. Zhang Peng showed the reporter the sandbox model of Topstar's solution for intelligent factories. He said Topstar could not only provide manufacturing enterprises with industrial robots. Injection molding machines, CNC machine tools, and other innovative equipment. It can also help enterprises to realize the intelligent factory planning of the whole factory.
We can realize the complete automation of the entire production process from raw material warehousing, production, and assembly to finished product transportation and storage. In addition, we use digital management systems such as the MES manufacturing execution system. "Topstar Chain" equipment health monitoring system cooperated with Huawei Cloud. For data collection and intelligent analysis. This helps enterprises manage factories more efficiently and conveniently and improve factory digitalization and intelligence.
Mr. Zhang Peng said Topstar could not develop without fertile soil in Dongguan. It is also inseparable from the opportunities and resources brought by Guangdong, Hong Kong, and Macao Bay Area actions. In the future, Topstar will strive to help manufacturing enterprises achieve intelligent upgrading. Support the high-quality development of the manufacturing industry in Dawan District and the whole country.
02
The Information Times reviewed ten years of Dongguan manufacturing road, and Topstar contributed.
On June 24, the local media "Information Times" launched a series of special reports on "the new journey. build a new era" and published the "Dongguan manufacturing 10-year review: from the "world factory" to "advanced intellectual capital" article. Topstar is a Dongguan-born and bred enterprise. The wave of Dongguan manufacturing transformation and upgrading to develop Dongguan intelligent manufacturing contributed to its strength.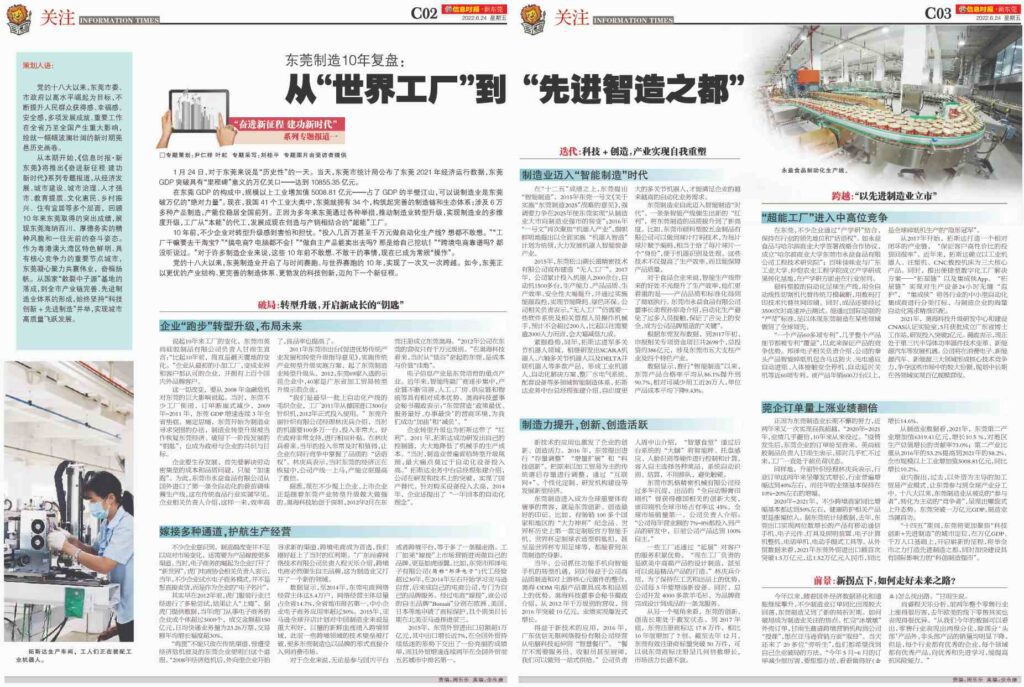 03
Guangdong Economic TV focuses on the robotics industry. Topstar accepted the interview.
On the evening of June 19, Guangdong Economic Science and Education Channel "Southern Financial Report" broadcasted a series of reports on strategic industry clusters in Guangdong, "Intelligent Robotics Strategic Emerging Industry Cluster, the way to become a strong industrial province in Guangdong." Topstar and its customers Well Technology and Zhongtuo Precision's intelligent robotics industry case were highlighted.