Industry tends to be intelligent, Topstar helps Zhongtuo Precision to build an injection molding intelligent factory
2022/04/29 By topstar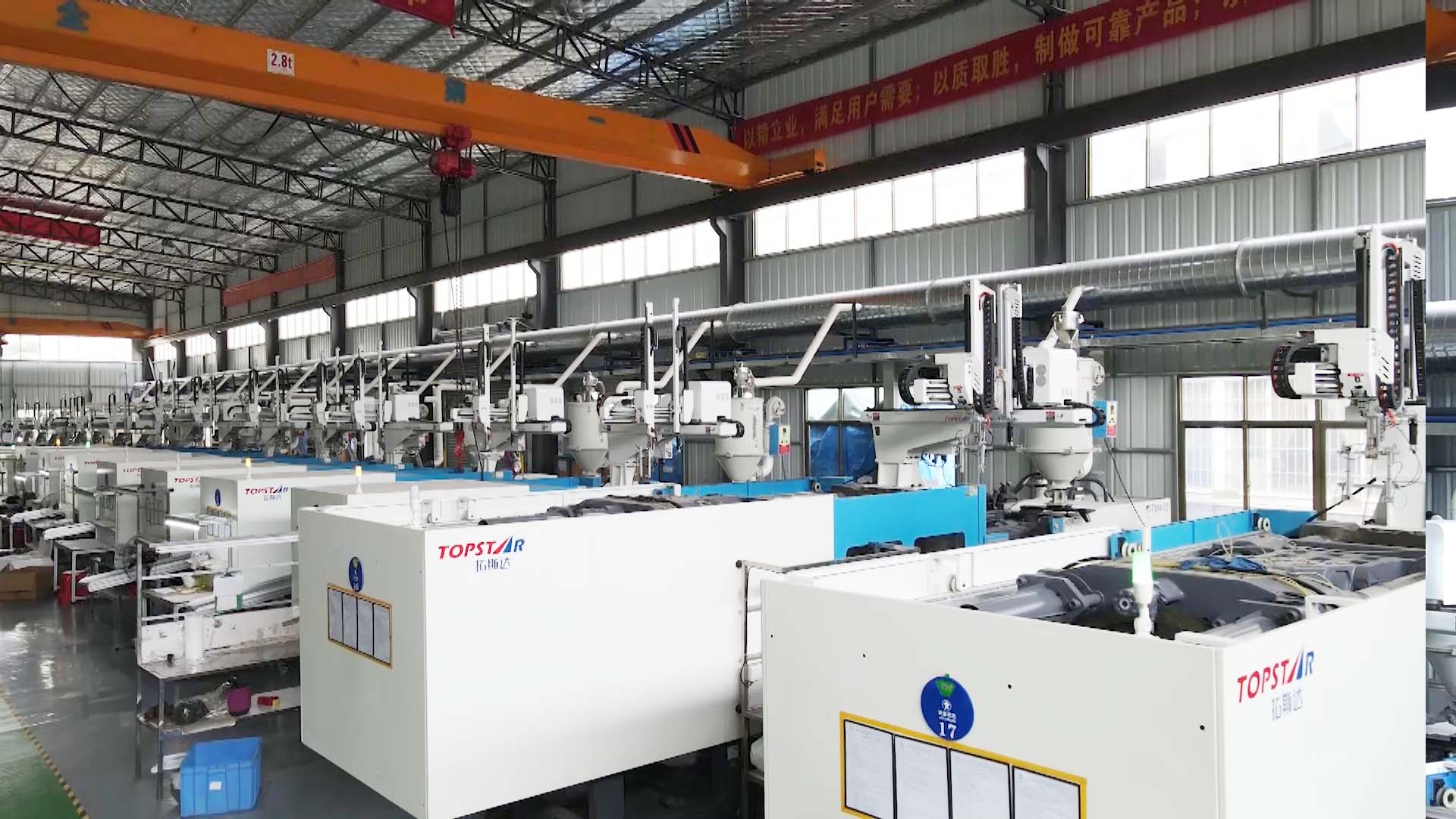 Nowadays, with the continuous improvement of national living standards, consumers' pursuit of product performance has also been enhanced. 3C electronic products such as intelligent wear, wireless headphones, and audio are constantly updated and iterated, which also drives the growing market demand for the injection molding processing industry. When the rising labor cost brings pressure to the business operation, more and more enterprises in the 3C industry choose intelligent upgrades and transformation. Dongguan Zhongtuo Precision Technology Co., Ltd. (referred to as "Zhongtuo Precision") is one of them.
"We choose the Topstar injection molding intelligent whole factory solution – TM series injection molding machines with robots, while equipped with 'Topstar Link' digital management system." Tang Yangchun, chairman of Zhongtuo Precision, said, "After the intelligent upgrade, our labor cost is reduced by 50%, and production efficiency is increased by more than 40%."
01 Intelligent upgrade, help production efficiency by 40%
As an important partner of Topstar in the 3C industry, Zhongtuo Precision is a wholly-owned subsidiary of Jinleida, which has been deeply involved in audio-visual and digital electronic products for more than ten years. It mainly operates in the design, development, production, and sales of 3C electronic products, such as audio, cell phones, and computers.
"Previously, our injection molding production part was outsourced. Not only was it difficult to control the product delivery time, but also the lack of quality assurance brought great resistance to the development of the company. So from 2021 we started to do injection molding production, hoping to achieve cost reduction and efficiency increase through the creation of intelligent workshop." Tang Yangchun said, "After multiple assessments, we finally chose Topstar to build an intelligent workshop for us."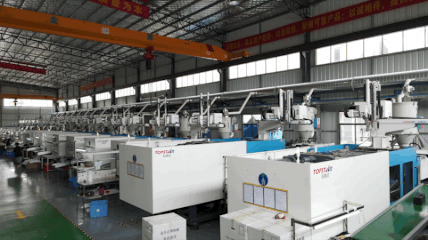 02 Get a good reputation with products and services
In this solution, Topstar provided the then-latest TM series injection molding machine for Zhongtuo Precision. In 2020, Topstar entered the injection molding machine industry. Based on 30 years of injection molding machine technology in the original injection molding machine factory, the first TM series precision injection molding machine was developed independently. The clamping force of the TM series is 90-470 tons, with features of versatility, high performance, easy operation, digitalization, etc. Servo motor is used, which can save more than 50% of energy. Moreover, the TM series has high response performance and can adapt to high precision product manufacturing. The system is compatible with peripheral auxiliary machines and automation, which can realize integrated control and applies to many application scenarios such as 3C, home appliances, optoelectronics, auto parts, and medical and daily chemicals.
Talking about the reasons for choosing Topstar, Tang Yangchun said, "First of all, Topstar has been deeply involved in the injection molding industry for more than ten years, not only has the injection molding machine and its supporting equipment and other hardware equipment, and digital solutions, can provide injection molding whole plant solutions and one-stop service, with high advantages in service and price. Secondly, I used to use the predecessor of Topstar injection molding machine, Elite machine, the performance and technology of this machine is very well understood, and I am a fan of it."
"The more important point is the after-sales service. Buy equipment, after-sales service is very important. I think Topstar's after-sales service is the most in place, so I feel very solid. Whenever the equipment encounters small problems, Topstar after-sales staff can always solve them for us in time to protect the production schedule, the sales responsible for this project is also very hard and dedicated." Tang Yangchun said so. He recalled that after the arrival of the equipment at the factory, because of the urgent production, Topstar's sales and after-sales staff immediately rushed to the workshop to debug and install the equipment, and finally make them start production smoothly, which made him very touched.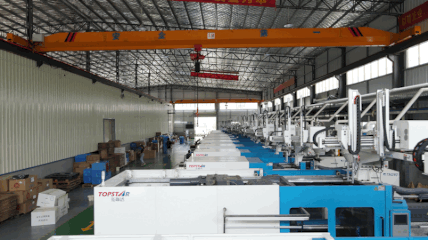 03 Digital transformation for more efficient management
The focus of the upgrade of the smart factory is not only the upgrade of the hardware and equipment used in production but also includes the digital capabilities of the factory. To improve the digital management level of small and medium-sized enterprises workshop, to achieve intelligent production, Topstar is equipped with a convenient digital factory solution "Topstar Link" for Zhongtuo Precision.
As a data product created by Topstar, the "Topstar Link" digital management system by monitoring the vibration and other physical signals generated by the operation of equipment, in the AI algorithm to build a model of equipment operation, to achieve seamless monitoring of equipment around the clock. And it has the functions of fault warning and record, one key to report repair. It makes the management of equipment easier and helps manufacturing companies avoid the secondary risk of equipment and reduce company loss.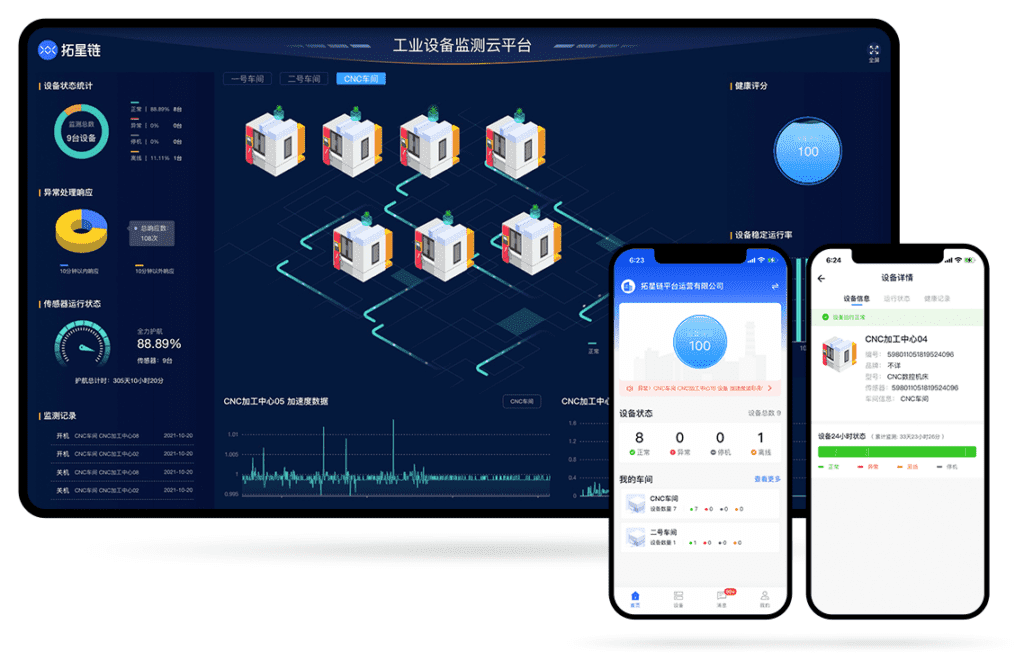 "Now, no matter where I am, I can check the operation of each machine in the factory and the production situation through my phone, and the data is clear and crisp, so it is more efficient and convenient to manage." Tang Yangchun feels very satisfied with this. Intelligent factory upgrade not only plays a positive role in the production efficiency of Zhongtuo Precision but also brings more development opportunities. Tang Yangchun said, now their software and hardware facilities have been built, which will provide a strong guarantee for future products to enter the overseas high-end market.
At present, Topstar has formed a technically advanced, stable quality, a wide range of applications of injection molding overall factory solutions. Topstar will help more manufacturing enterprises to successfully achieve intelligent transformation and upgrading, including 3C, home appliances, medical, new energy, daily chemical, packaging, and many other fields.
This year is the fifteenth anniversary of the establishment of Topstar, Tang Yangchun to Topstar sent thanks and blessings. He said with a smile, "We are also fans of Topstar now." He expects Topstar to combine the industry process requirements, develop more efficient, more precise, more stable, more intelligent equipment, and work together in the future to achieve mutual benefit and a win-win.