Topstar's New High-Speed SCARA Robot With A Beat Of 0.25s
2022/05/28 By topstar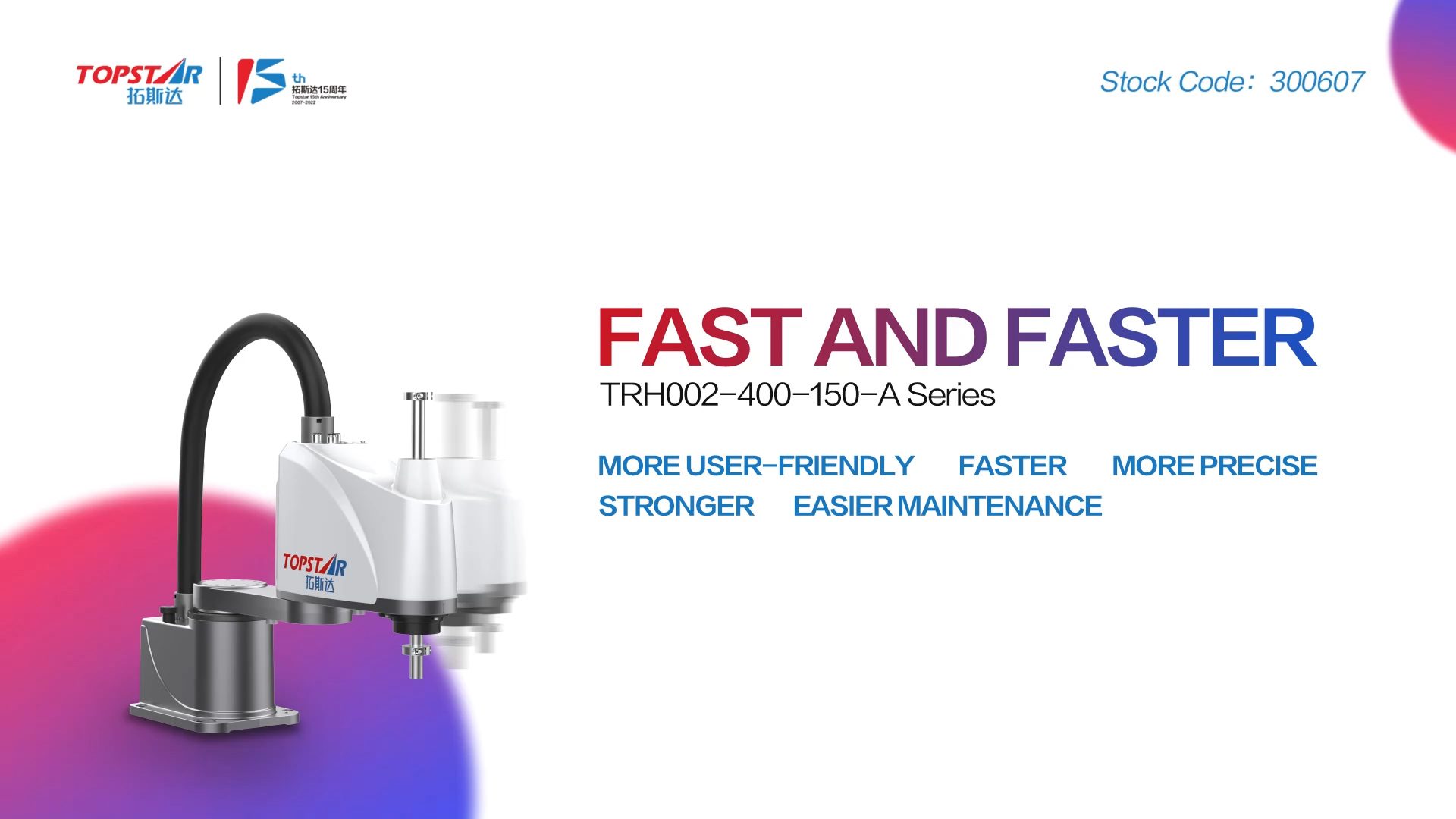 "Fast, stable, and accurate" is the core requirement of industrial robots, which also determines the processing quality and efficiency of the production process. To further improve product performance and meet increasingly complex manufacturing applications. Topstar launched a new TRH002-400-150-A series of high-speed SCARA robots. Bring more efficient and flexible product experience to manufacturing enterprises.
As a new generation of high-speed SCARA robot, TRH002-400-150-a improves speed, accuracy, load performance, experience, debugging, and maintenance. It has a fantastic 0.25-second limit beat and maintains a "stable" and "accurate" state during high-speed operation. So it is the "king" of the SCARA robot.
The new robot is based on the original series, with an optimized appearance and functions.
1. reduced base size, more space-saving.
2. selectable range of arm's length from 300-700mm. Which can meet the needs of the complex production process and high-speed production in 3C, packaging, medical, and other industries.
3. flexible and fast integration into the production line, especially for light and minor materials handling. Loading and unloading, sorting, assembly, and other scenarios, can achieve "high-speed handling, precision assembly."
Comprehensive Upgrade, Superb Experience
01 Faster
Adopting TOPSTAR self-research controller, the cycle time can reach 0.25s under a 2KG load. 33% increase in beat frequency and higher working efficiency. The acceleration time is reduced by 20%, and the speedup is faster. More stable equipment, reducing the time from high-speed operation to equipment stop by 25%.
02 More Precise
The repeated positioning accuracy is ± 0.01mm, the rotation clearance is within one arc minute, and the tracking accuracy is increased by 35%. A higher degree of refinement effectively solves the problem of more users' operation restrictions in actual application scenarios.
03 Stronger
The rated load is 2kg, and the maximum load is 5kg. The maximum allowable inertia is increased by 50%, and the high speed and high load running ability can surpass the same type of Japanese products.
04 More User-Friendly
The simple and intuitive software system, more convenient operation. At the same time, the thin and light body reduces air resistance, making the movement smooth. Minimizes the space occupation rate in line with the user habits in various application scenarios.
05 Easier Maintenance
Fully considering the convenience of maintenance can effectively reduce troubleshooting and maintenance time.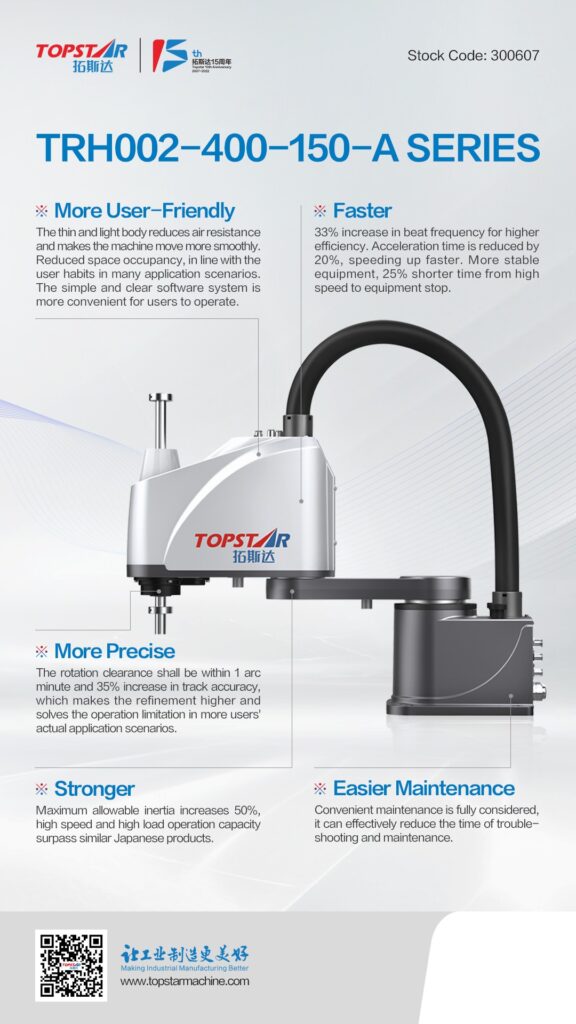 Strength Out Of The Circle, a Widely Acclaimed
Topstar complete self-research series of industrial robots are widely used in 3C, packaging, new energy, auto parts manufacturing, 5G, optoelectronics, household appliances, and other fields. Restructure through automation solutions to form standard workstations in niche areas. It has good universality and replicability, helping enterprises improve efficiency and application scale. It has won a good reputation from customers and effectively helped enterprises enhance production efficiency and product quality.
Topstar has developed in the field of intelligent manufacturing for 15 years. It is the first backbone enterprise of Guangdong Robotics to land on the GEM. Topstar robot business has self-developed product core technology, fully independent motion control technology, modular servo drive technology, stable and reliable body technology, and a flexible vision system. It can form a whole set of solutions, both generalized products, and functions, but also customize development based on industry attributes, effectively helping manufacturing enterprises reduce costs and increase efficiency.