Good news! Topstar "Guangdong Province Doctoral Workstation" was officially unveiled!
2021/08/25 By hqt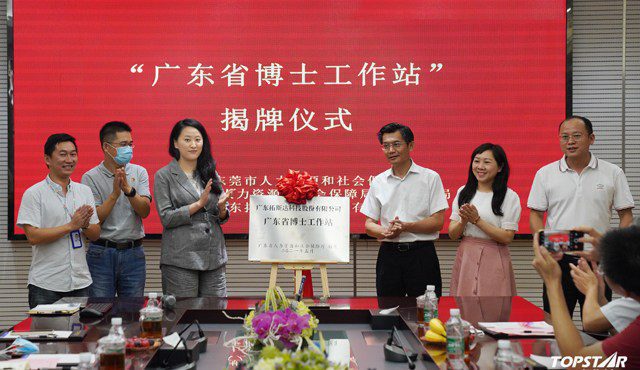 On the afternoon of June 2, Topstar held the unveiling ceremony and exchange activities of the "Guangdong Doctoral Workstation". Wang Zhenjiang, Deputy Mayor of Dalingshan Town, Dongguan; Luo Feijing, Chief of Professional and Technical Personnel Management Section of Dongguan Human Resources and Social Security Bureau; Yao Huaixiang, Director of Dalingshan Branch of Dongguan Human Resources and Social Security Bureau; Guangdong Topstar Technology Co., Ltd. Co., Ltd. Chairman Assistant and General Manager of the President's Office Kong Tianshu, Guangdong Topstar Technology Co., Ltd. Chief Servo Technologist Wang Zhicheng and other relevant leaders and company representatives attended the symposium and the unveiling ceremony.
Topstar was approved as a doctoral workstation in Guangdong Province
Deputy Mayor Wang Zhenjiang and his party visited the exhibition hall of Topstar to learn about the company's development history, product application fields, production and operation conditions, and future development plans.
At the symposium, Deputy Mayor Wang Zhenjiang, on behalf of the town government, congratulated Topstar for its approval to establish the "Guangdong Province Doctoral Workstation", and hoped that Topstar would seize the opportunity to build the station and attract more doctoral and post-doctoral talents to help our city. Industrial transformation and upgrading and high-quality development provide strong talent support. At the same time, it is hoped that Topstar can use the platform as an important carrier to improve the comprehensive competitiveness of enterprises, set a benchmark and model for Dalingshan enterprises, and play a demonstrative and leading role for construction. Dalingshan, a strong manufacturing town in the Bay Area and a livable charm, will make greater contributions!
Section Chief Luo Feijing also expressed his affirmation to Topstar's site construction work and encouraged the company to continue to develop and cultivate a talent team, striving to build a larger and higher-quality innovative talent training platform.
Subsequently, Kong Tianshu introduced the development of Topstar, the establishment of the doctoral workstation and the planning work to the leaders at the meeting. She said that Topstar will closely unite the three elements of industry, innovation and talents, take the construction of a doctoral workstation as a jumping point, strengthen the radiating and leading role of the platform carrier for the introduction of high-level talents, and provide talent support and support for the high-quality development of the group. Guaranteed.
Finally, Deputy Mayor Wang Zhenjiang and his entourage jointly unveiled the "Guangdong Province Doctoral Workstation" of Topstar.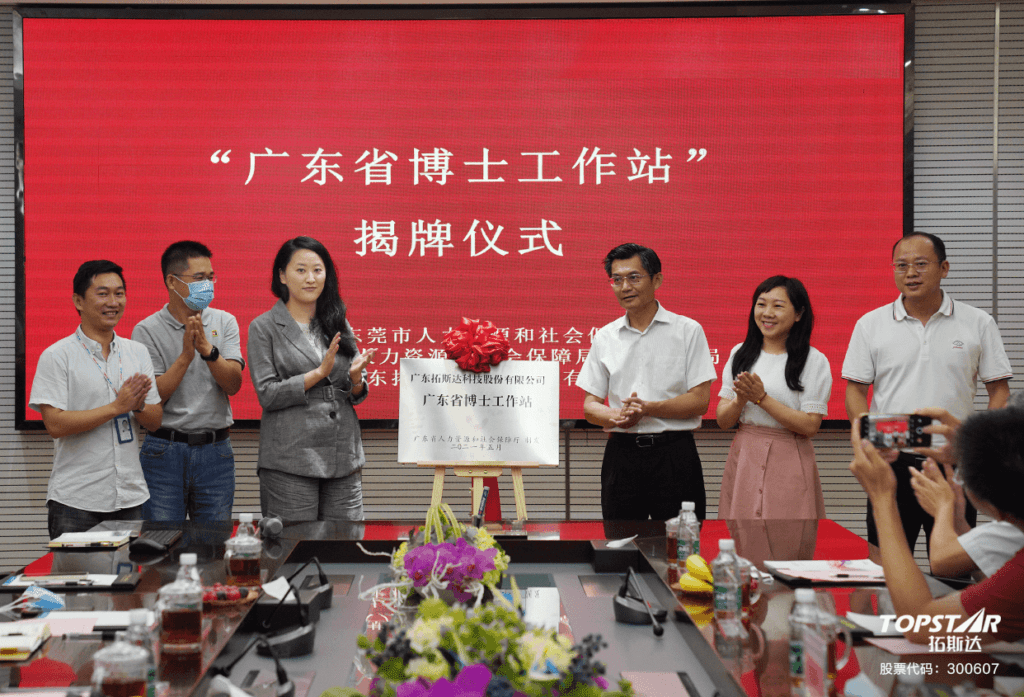 "Guangdong Province Doctoral Workstation" Unveiling Ceremony
As the first Guangdong Province robotics backbone enterprise to be listed on the Growth Enterprise Market, Topstar has been rooted in Dongguan for more than ten years and has been insisting on building an intelligent hardware platform driven by core technologies to enhance the company's core competitiveness and achieve high-quality development. Up to now, the company has more than 40 offices across the country, serving more than 10,000 customers. Since 2017, it has introduced more than 10 doctoral talents.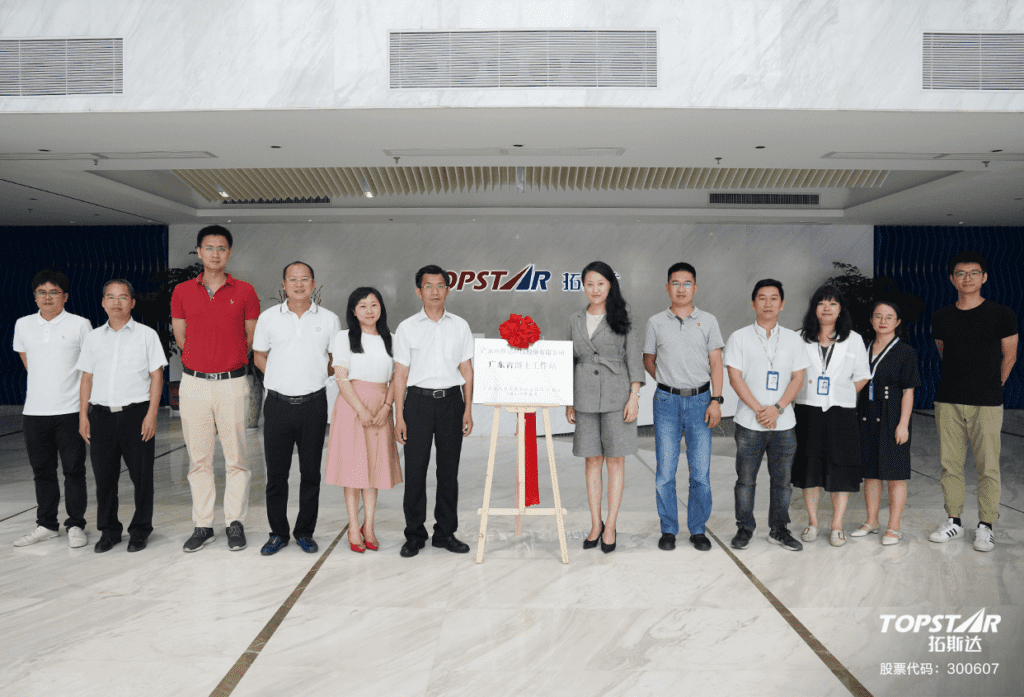 The Guangdong Doctoral Workstation is an important carrier for attracting and gathering high-level young talents. It has an important role and unique advantages in implementing innovative channel development strategies and creating a highland of innovative talents. In the future, Topstar will actively introduce high-level talents, carry out in-depth scientific and technological cooperation, continue to improve the talent innovation platform, promote the growth of talents and the company's development at the same frequency, and provide a steady stream of power for the company's sustainable development.