Good news! Topstar injection molding machines and industrial robots won three awards in a row
2022/08/15 By topstar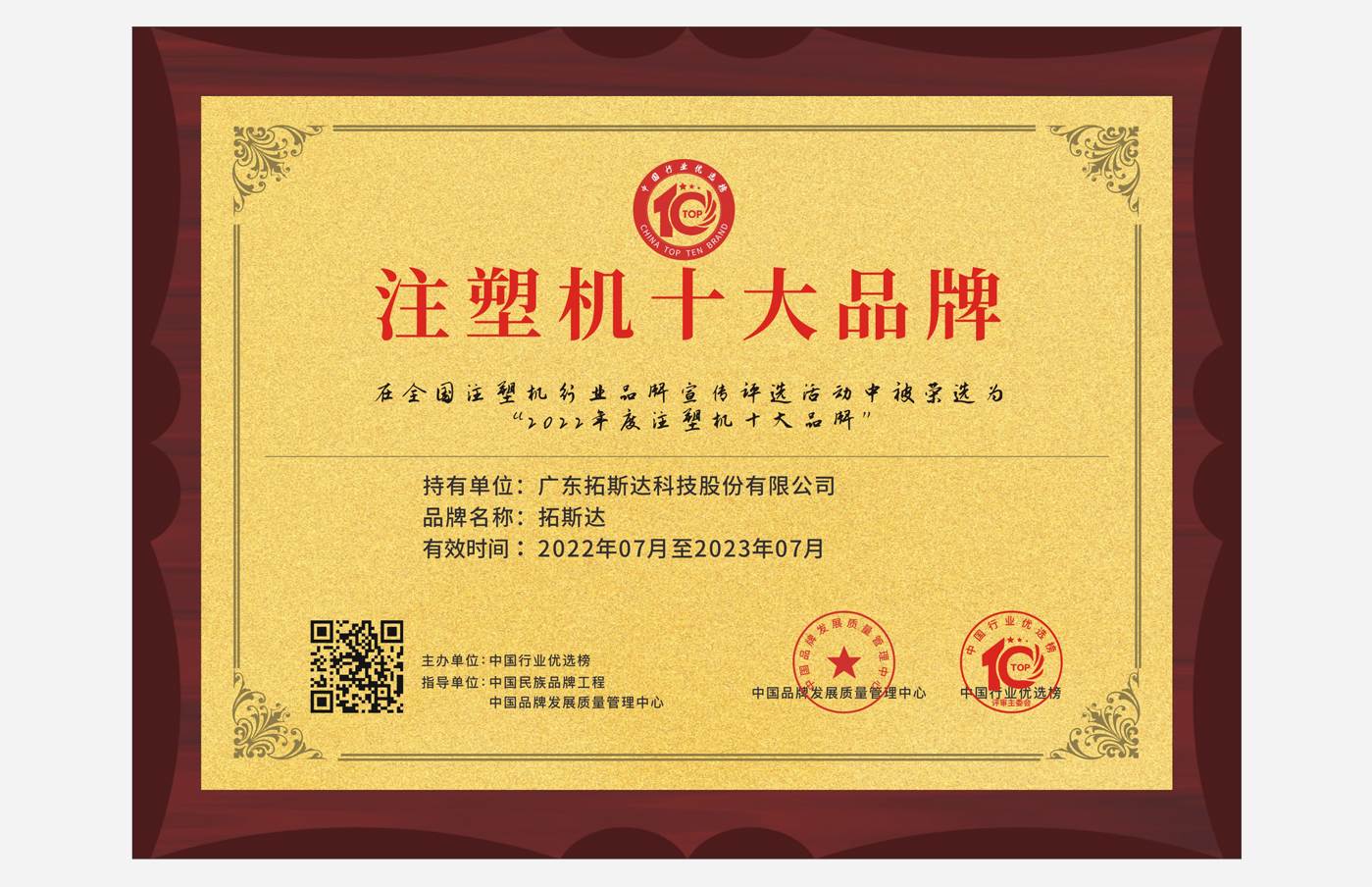 Recently, Topstar was successfully selected as one of the "Top Ten Brands of Injection Molding Machine" in 2022. The selection activity by the Chinese national brand project joint industry preferred list, brand demonstration project, brand data center jointly organized, the selected companies are typical representatives of injection molding machine brand.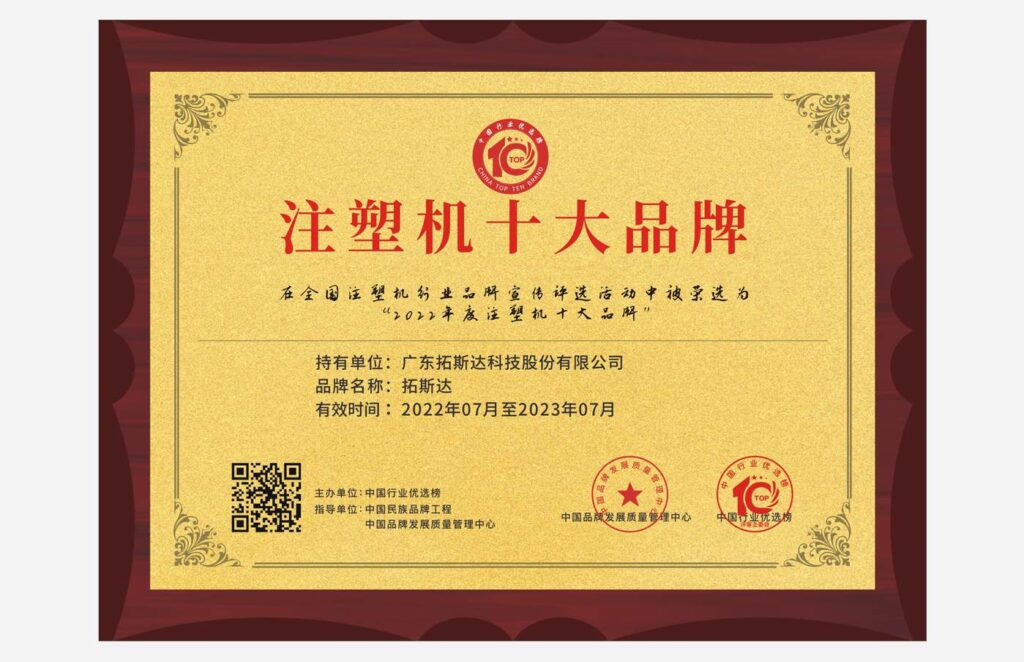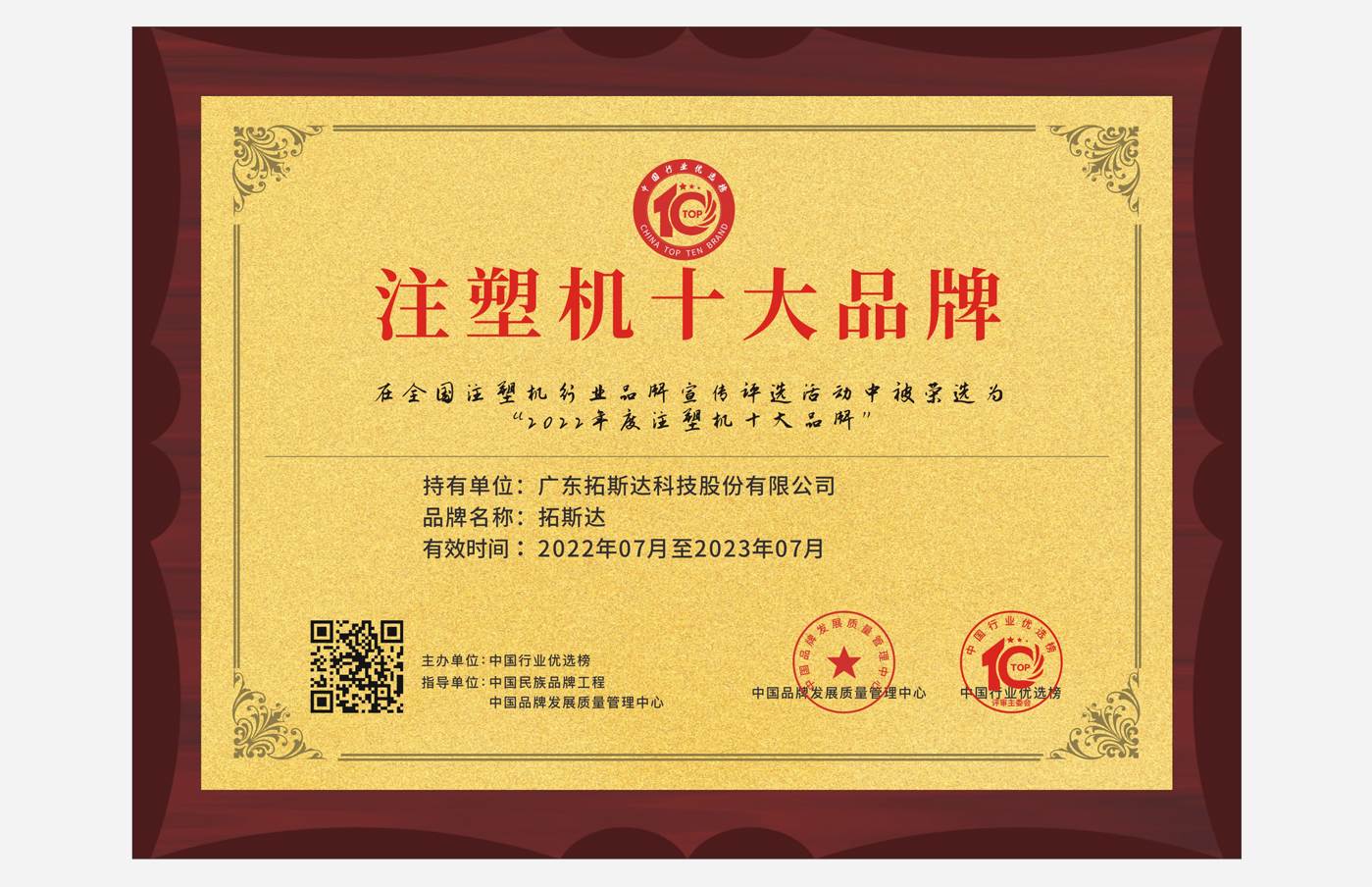 In 2007, Topstar started with the injection molding machine supporting equipment business and has been deeply involved in the injection molding industry for fifteen years, and officially entered the injection molding machine host industry in 2020.
Based on the 30-year process precipitation of the original injection molding machine brand, Topstar has independently developed three series of products: TM series of machine hinged hydraulic servo injection molding machine, TH series of direct pressure injection molding machine and TE series of the all-electric injection molding machine.
At present, Topstar can provide manufacturing enterprises with injection molding machines as the core, supporting injection molding peripheral equipment, and injection robots. Also, we provide intelligent management systems, and injection molding process intelligent upgrade services, thus helping enterprises to reduce costs and increase efficiency.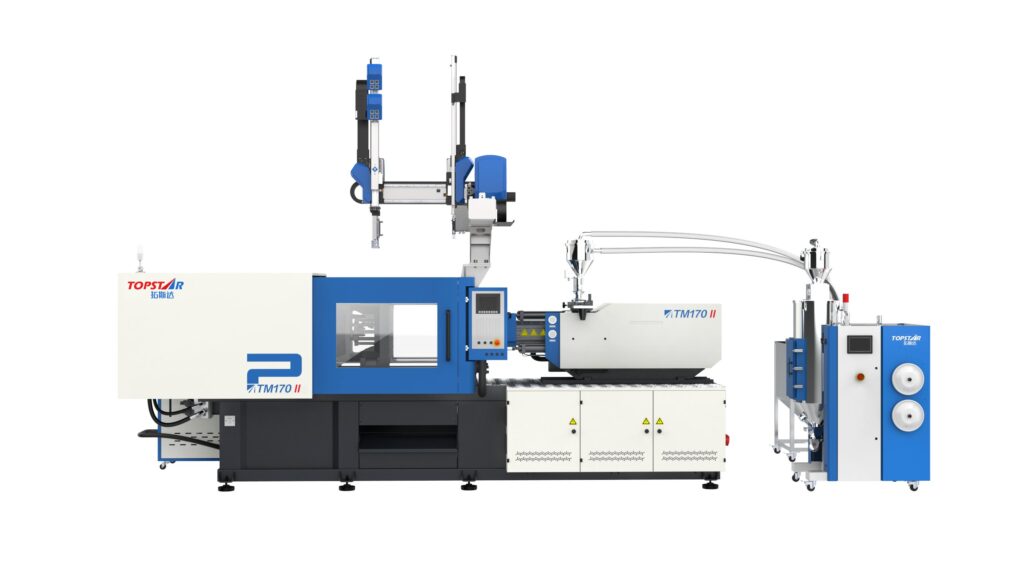 Previously, Topstar also won the "2021 Guangdong Mechanical Engineering Society Science and Technology Third Prize" for the "multi-axis industrial robot motion control system development and application" project, and the "Leaderobot 2021 China System Integration Demonstration Application Award" for the industrial automation robot integration application.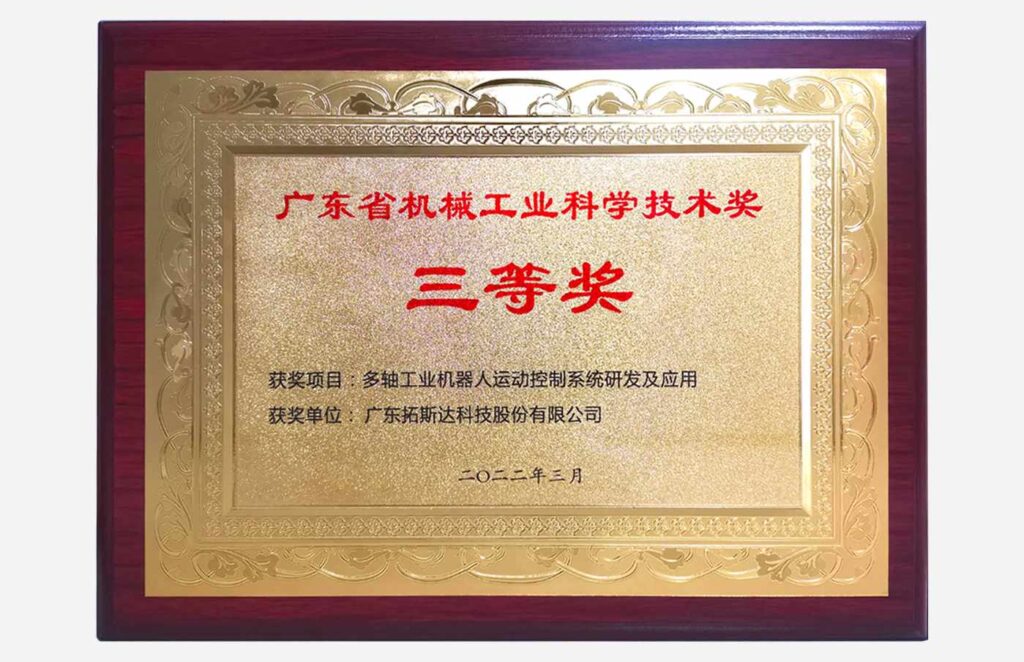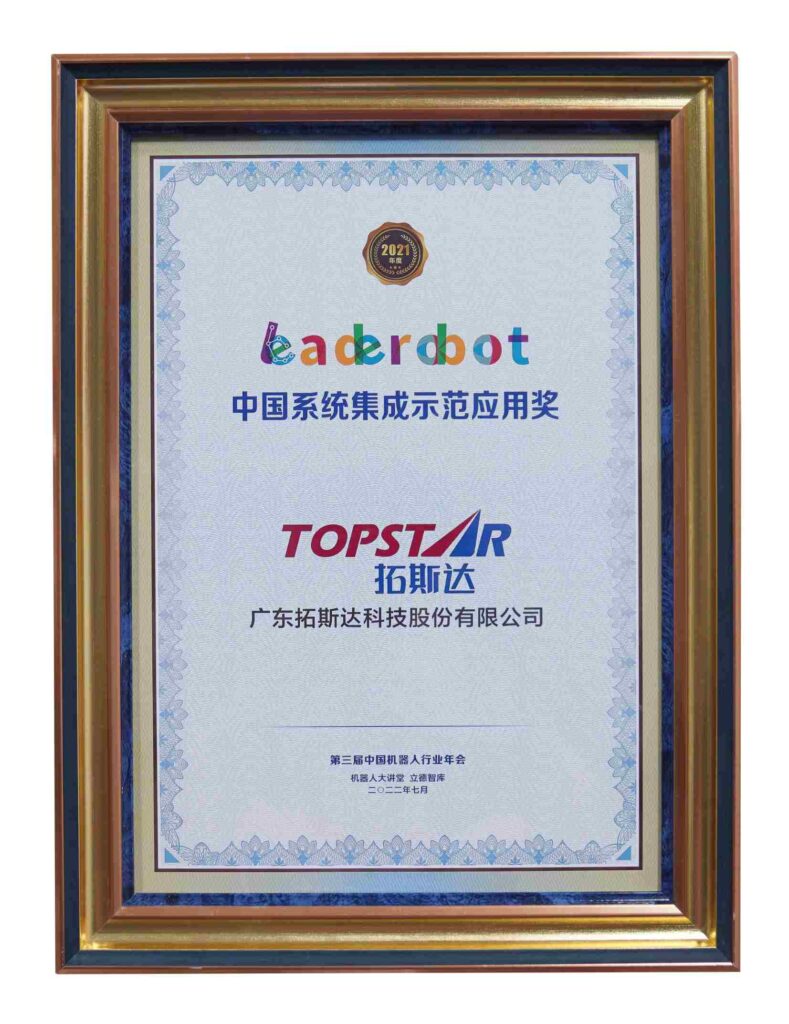 In 2010, Topstar set up a research and development team to develop robotic products and successfully launched the first self-developed robotic control system in 2011, which rapidly expanded its market share within three years. 2015, Topstar also gradually realized the optimization of motion algorithms, robot vision and other core technology breakthroughs, and completed the development of a multi-joint robot body. At present, Topstar industrial robot products cover SCARA robots, six-axis multi-joint robots, Delta parallel robots and collaborative robots and many other products, which are widely used in 3C, packaging, new energy, auto parts manufacturing, 5G, optoelectronics, household appliances and other fields.

Founded fifteen years, Topstar has been committed to the innovation and application of industrial manufacturing intelligence. Now has formed four main business sectors, including industrial robots and automation application systems, injection molding machines and their supporting equipment, CNC machine tools, intelligent energy and environmental management systems. Also, we have the ability to cover the front-end, middle-end and back-end of manufacturing production with integrated services of intelligent manufacturing whole plant. At present, we serve more than 15,000 customers, including CATL, EVE, NVT, SUNWODA, COSLIGHT, SVOLT, BIEL, LUXSHARE-ICT, JABIL, FOXCONN, BYD, GREATWALL and other well-known companies.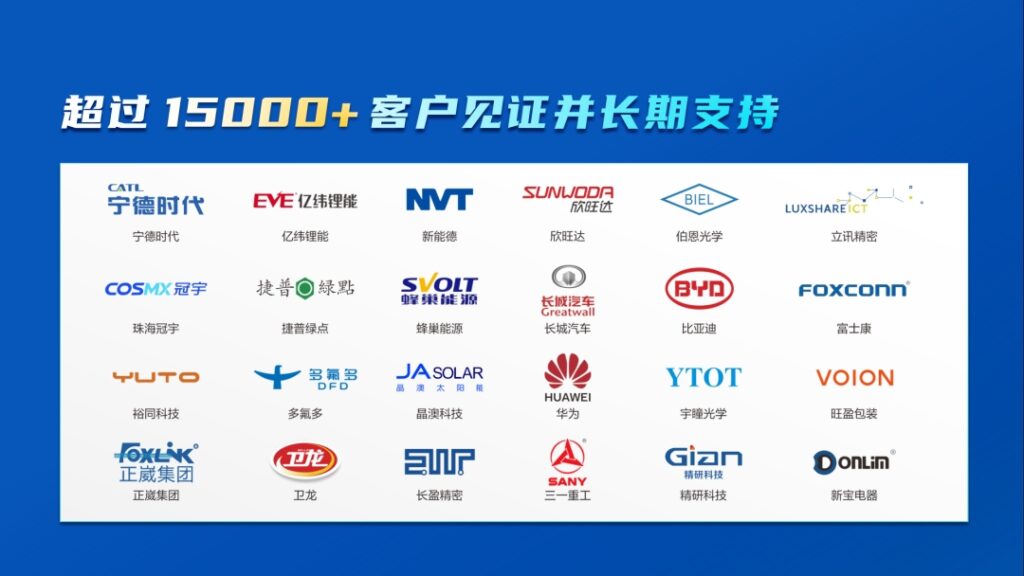 High-quality products are the cornerstone of the enterprise, technological innovation is the vitality of the enterprise. The three awards won, is the industry's full affirmation of Topstar's product development capabilities and brand influence. In the future, Topstar will continue to polish industrial robots, injection molding machines, CNC machine tools three core products, in-depth research and development of control, servo, vision three core technologies, and constantly improve the technical strength and product quality, to create value for customers, for the "Made in China" empowerment.