How does Industrial Robot work? Ultimate Guide
2022/03/24 By 兰兹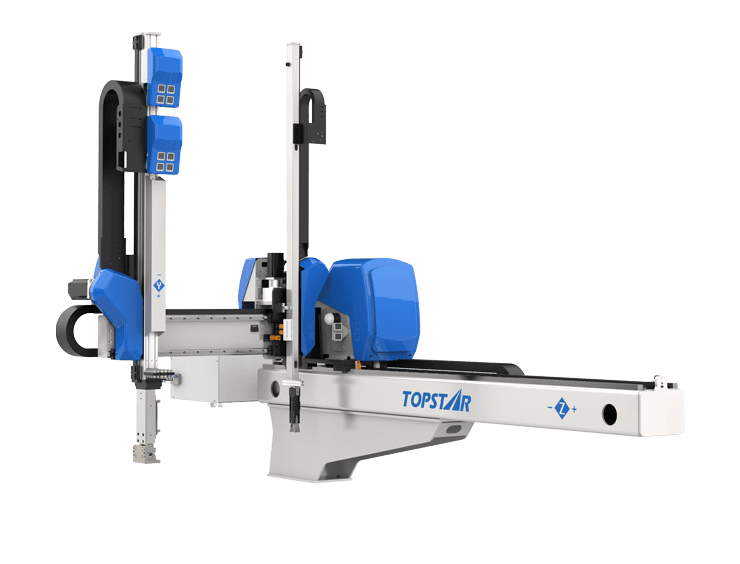 What is an industrial robot?
Using industrial robots in industrial processes provides producers with the necessary competitive advantage with noticeable increases in productivity and the quality of the parts produced, working with repeatability and optimizing productivity rates. 
Moreover, the automation of the manufacturing process is the key to guaranteeing your end customers that your company will deliver reference products in a fast way with intuitive visualization and at a very competitive price.
Injection molding robotics in the plastics industry offers several application advantages, including:
Decreased part variations which in turn reduce waste and increase yields
Consistent quality of produced parts
Reduced molding, labor, and finished product costs
More compact cycle times
Superior productivity and efficiency
better flexibility
Three lines of industrial robots are worth investing in today
Robotic plastic injection machine is a type of plastic industry machine appreciated today.
Therefore, to improve the factory's productivity, many businesses have chosen to apply plastic injection machine robots to the production process. Moreover, companies can choose different robot arm lines depending on specific needs.
Below are three lines of plastic injection molding machine robots with outstanding quality, high-quality materials, and impressive productivity. Industrial robots will undoubtedly be the most investment-worthy products for today's plastic businesses.
TABLE OF CONTENTS
GU series plastic injection machine robot
Specifications
Outstanding advantages
GU series plastic injection machine robot
General information
Outstanding advantages
GU series plastic injection machine robot
General information
Outstanding advantages
Plastic injection machine robot
A plastic product-picking robot is a machine that specializes in industrial production processes, especially in the plastic industry. Moreover, the robot arm works very flexibly with an intelligent structure. Accordingly, industrial robots will replace human hands to perform stages that require meticulousness and high precision, dedicated to picking up products and stubs.
Outstanding advantages of the GU series of robots
Moreover, the GU series of robots are dedicated to picking up products and cutting the plastic injection molding machine's excess tail (high tail) into a lying shape.
The stub-picking robot arm uses high-strength aluminum alloy with precisely textured sliders.
Optimized design to reduce noise, long life
A dual cutting arm with a unique design with a belt increases industrial robot speed and shortens up and down time while helping to reduce the pitch of the whole machine.
Especially suitable for presses from 300 tons or less
The most cost-effective robotic arm product line for customers

GU series plastic injection machine robot
Applying the GA robot arm to the production process will help businesses improve productivity, save labor costs, and bring a professional and synchronous image to the plastic industry's production line. Generally speaking.
Moreover, at reputable addresses specializing in selling robotic arms, an industrial robot is also one of the devices that are especially popular with customers, thanks to the following advantages:
Outstanding advantages of robot
GU robot arm is a line of 2 grippers, and one servo with high productivity
The advantage of the GU robot is that it is cheap, easy to operate, and saves energy
The machine has high durability, stable performance, extended use time
The device can grasp both the product and the glued tail
GU robot is especially suitable for presses 450 tons or less
Plastic injection industrial robot
The robot arm application will help you to have more options on how to drop the product from 2 to 3 positions. Moreover, the device performs many complex operations, and the control and operation processes are also straightforward.
Therefore, if the GU robotic arm is applied to the production process, it will save time and increase efficiency.
General information about the robot
About 3-axis servo robot arm (GU): 3-axis servo horizontal robot arm is often used for plastic injection molding machines from 50 to 550T in the form of lying products and residual tails. 3-axis AC servo of industrial robot motor, precise positioning, fast speed, stable operation, provides excellent performance.
Moreover, the 5-axis servo robot arm (GM5): The 5-axis servo robot arm comprises three main parts: the mechanical part, the controller, and the software, which the control box has four control inputs from the PLC plus four relay outputs to control other devices.
A USB to COM wire to connect the controller to the computer. Indeed, the 5-axis robot arm. Be able to "obey" the commands in the most accurate way.
Outstanding advantages robot
Accurate positioning, fast speed, and high stability
Affordable price, easy to operate, high durability
The industrial robot is made of high-quality steel with a high bearing capacity
Equipped with an advanced electronic system to help automate the product picking process, saving time to pick up products and increasing productivity effectively.
Effectively save energy and ensure high safety during use
Special equipment suitable for presses from 1800 tons or less
Above are the three most appreciated plastic injection machine robot arm lines today. If you want to improve the productivity of your plastic injection factory. Moreover, the application of a robotic arm in the production process is the first solution for you.
With many years of experience in the industry and a team of highly skilled technicians, we will be a prestigious address specializing in providing you with quality industrial robots for the plastic industry, especially the robot line of plastic injection machines.
Modern, durable at the most affordable price
TOPSTAR is a reputable brand specializing in manufacturing and supplying all kinds of machinery in the plastic industry.
With continuous efforts and efforts, we aim to become the leading supplier in Vietnam of plastic machinery and equipment. Moreover, customers can be completely assured of the quality of industrial robots, along with the following:
The simple and convenient buying process
Easy and fast payment method
Prestigious and professional sales policy
Where to buy the best industrial robot from China?
The best place to buy industrial robots is TopStar. We carry a wide range of injection molding machines and industrial robots to help you make your business swift and productive.