Topstar Launched The MBW-130Pro High Speed Heavy Load Injection Robot
2022/03/30 By topstar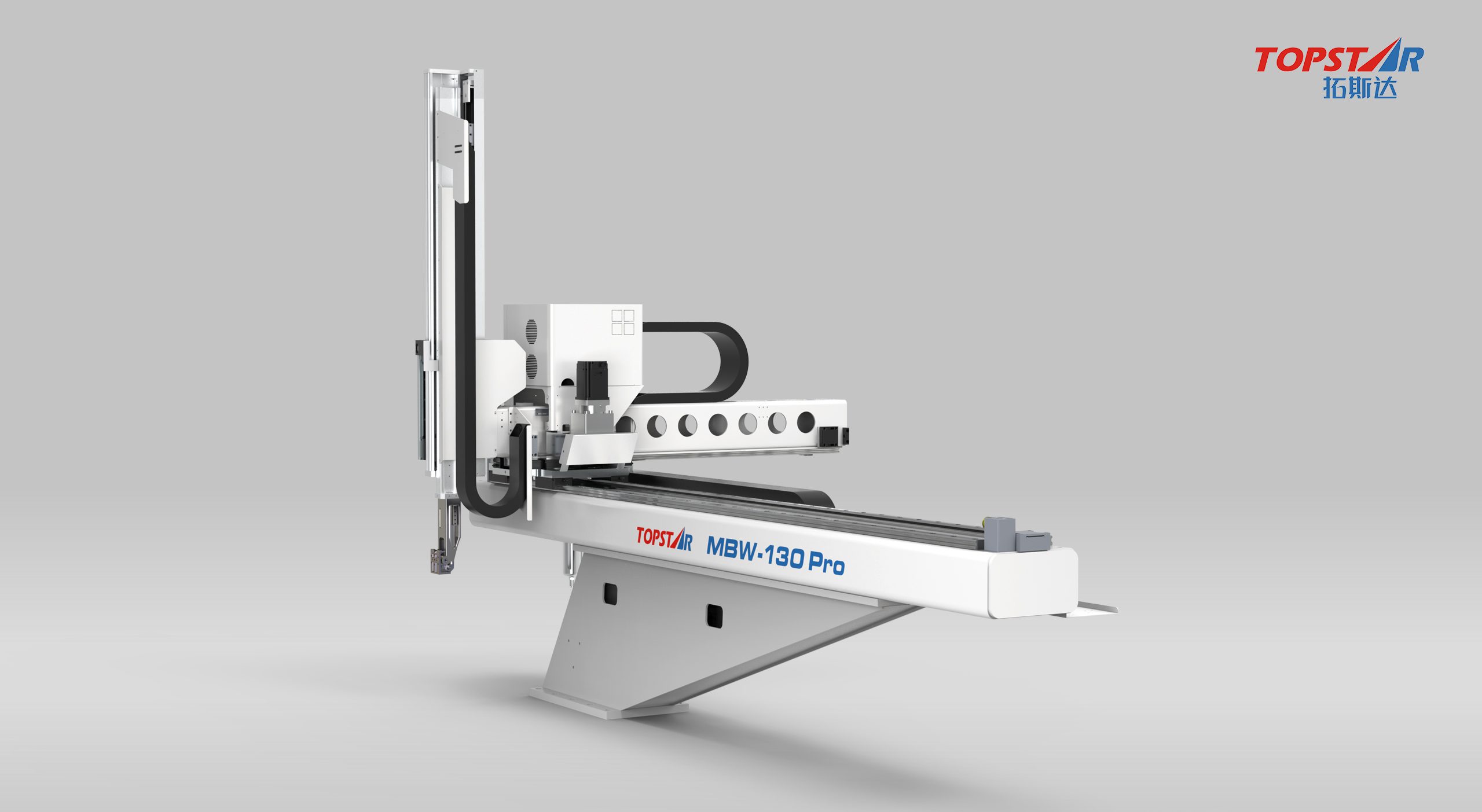 MBW-130Pro High Speed Heavy Load Injection Robot
With the rapid development of the plastics processing industry in China. The degree of automation of injection molding equipment is becoming higher and higher. Modern injection molding machines are often equipped with injection robots to improve production efficiency. The injection robot is specially equipped with machinery to automate injection molding production, which can play an essential role in improving the production efficiency of injection molding machines, stabilizing product quality, reducing production costs, and enhancing the competitiveness of enterprises.
MBW-130Pro high-speed and heavy-duty injection robot
Recently, TOPSTAR launched the MBW-130Pro high-speed heavy load injection robot. The product's primary focus is a high speed, high load, with high speed, accuracy, humane, strong applicability, and other characteristics. Equipped with TOPSTAR three-axis servo control system independently developed. The up-and-down travel of the main boom is 1400mm, the forward and backward travel is 750mm, and the standard load is 7kg. The maximum load is 10kg, and the fastest delivery time can reach 1.8s. Applicable to injection molding machines under 1000T of most brands in the market. It can be used in home appliances, daily chemical, automotive, and other industries, especially for rapidly removing thin-walled molding products such as paint pails, fast food boxes, electrical parts, etc.
Generally speaking, the longer the robot arm, the greater the load and the longer the removal cycle. MBW-130Pro is the strength of Topstar's high-speed and heavy-duty injection robot. It can be described in terms of speed and power. MBW-130Pro takes out the rate and has an absolute advantage in the same scene with the same arm length as similar products.

Topstar has more than ten years of experience in product development and production.
Topstar, since the launch of the first self-developed robot system in 2011, has accumulated more than ten years of product development and production experience through continuous optimization and innovation, has formed a wide variety of robot product series, and occupies an essential share of the market.
And Topstar has industrial robots, injection molding machines and peripheral equipment, a five-axis machining center, and other core products. With entirely independent motion control technology and modular servo drive technology. Stable and reliable body technology and a flexible vision system. Can provide intelligent factory solutions for manufacturing enterprises. To help enterprises achieve cost reduction and efficiency.