Topstar Scara Robots Help Appliance Manufacturers Improve Efficiency By 30%
2022/03/30 By topstar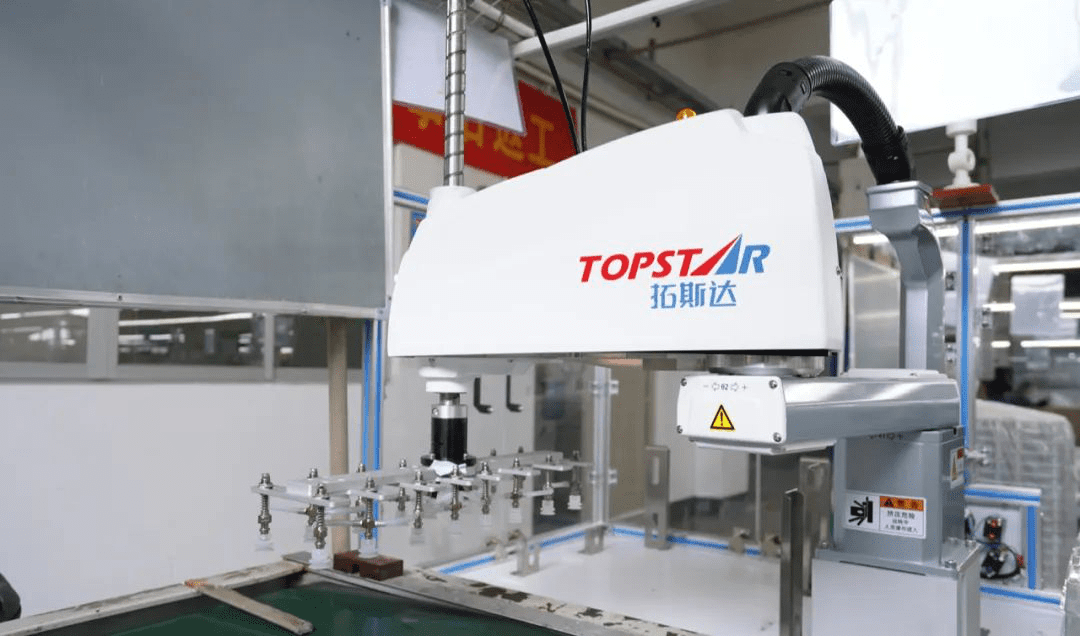 Topstar Scara Robots
Two thousand years ago, the Chinese began to use horsehair and stencils for the initial screen printing, which to a certain extent, contributed to the development of human material civilization. Nowadays, screen printing is closely related to people's daily life and is also related to almost all industrial products, ranging from routers, and set-top boxes, to sweeping robots; screen printing has long been a vital link for home appliances before they leave the factory.
Guangdong Weir Technology Co., Ltd. (now referred to as "Weir Technology") is an essential partner of Topstar in the smart home appliance industry. Founded in 1999, Well Technology has nearly 200 engineers and technicians of various types. It provides one-stop services for precision molding, injection molding, secondary processing, and product assembly for innovative home appliance enterprises.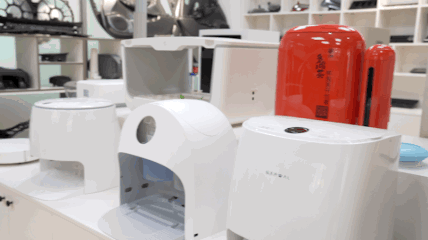 Intelligent appliance industry
The smart home appliance industry is a labor-intensive industry. The changes in the needs of young people have brought about an increase in the total market demand in the industry, which has gradually made Weir Technology feel the pressure of rising labor costs and unstable production capacity. It is particularly urgent to upgrade the automation of enterprise product lines.
Currently, the screen printing process in the home appliance industry is still completed by many workers, relying mainly on experienced workers to carry, load, confirm the position and start the screen printing machine. Workers repeat a single action for a long time and quickly become tired. It affects the quality of products, resulting in increased production costs, and significantly reduces production efficiency. At the same time, the time-consuming, polluting disadvantages of the screen printing line are also subject to criticism.
Topstar automatic screen printing production solution selected the R700-05-Z industrial robot, replacing the traditional manual completion of substrate loading and unloading, fixed-point handling, and other work, successfully helping Weir Technology to achieve the automation of production line upgrade. While reducing labor costs, it is more effective to stabilize production quality and improve production efficiency by more than 30%.
SOLUTION ADVANTAGE
01 Effectively Reduce Labor Costs
n a set-top box screen printing line of Weir Technology, five sets of Topstar R700-05-Z industrial robots have become beautiful scenery. They are orderly and automatically complete a series of work tasks such as gripping, loading and unloading, workpiece handling, etc., and cooperate with the screen printing machine to print different colors and patterns. A SCARA industrial robot replaces a worker, frees the operator from the single high-intensity work, and helps customers effectively reduce labor costs.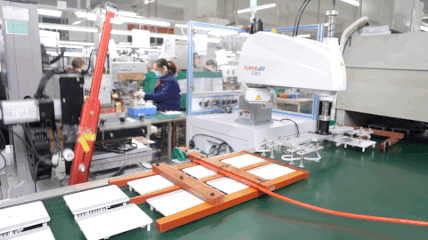 02 Significantly Improved Screen Printing Efficiency
Savvy home appliance market consumers pursue high quality of life, so smart home appliances with rich functions and fashionable appearance put higher requirements on the production process equipment.
In the solution, this Topstar R700-05-Z industrial robot can ensure a stable and efficient operation for a long time, meeting the smooth and fast operation requirements of home appliances' screen printing production line. In addition, this SCARA robot has a complete repeat positioning accuracy of ±0.025mm, a rated load of 5kg, and accurate pick and place. Compared with manual operation, it increases production efficiency by more than 30% and significantly improves product quality.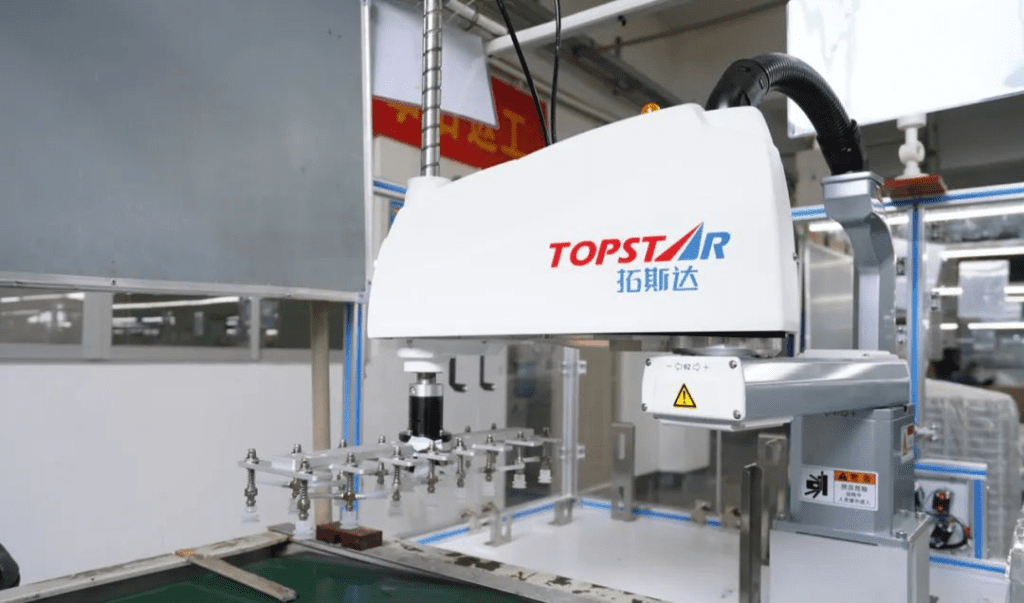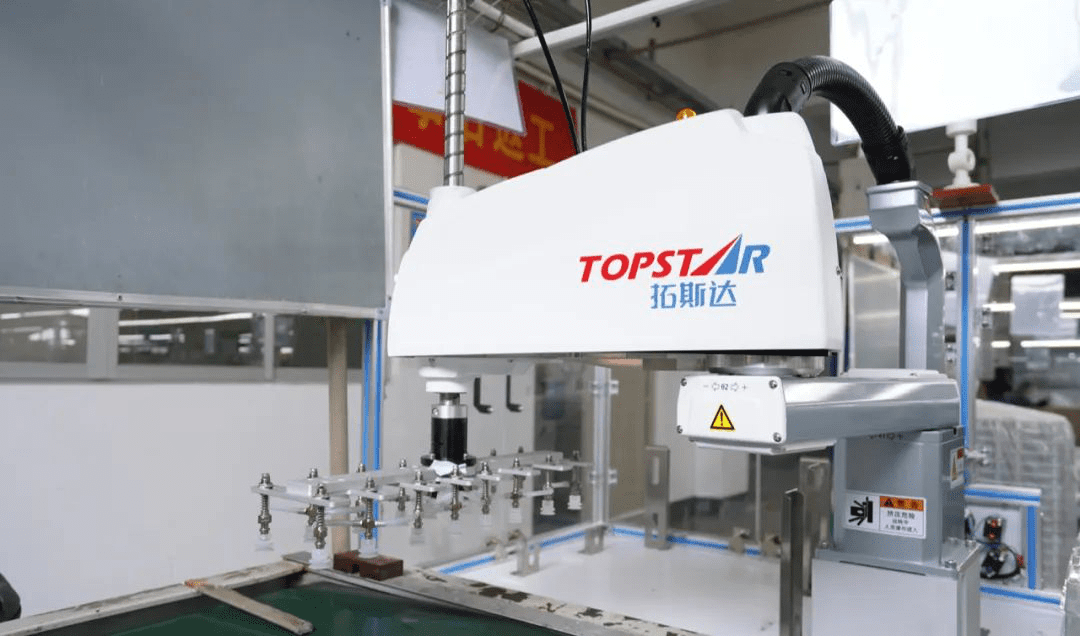 03 Significant Improvement In Ease Of Operation
Topstar automatic screen printing solutions do not change the customer site or redeploy the production line. An essential start of the quick operation mode can protect the front-line staff from quickly changing production, significantly improving the solution's ease of operation. During the screen printing process, the industrial robot and screen printing machine signals are interlocked, ensuring that the entire process is carried out smoothly and safely.
CUSTOMER WORD OF MOUTH
After the introduction of Topstar automatic screen printing solution, Weir Technology screen printing line automation, production efficiency increased by more than 30%; the screen printing process is more accurate and fast. Weir Technology Chairman Ning Jianqiang said that after the automation upgrade, production efficiency dramatically improved, labor costs and energy consumption was reduced, and quality control whad effectively guaranteed.
From the injection molding auxiliary machine to robot, from robot to automation workshop integration transformation, ten years of cooperation is the Weir Technology to Topstar products, technology, and services of affirmation and trust. Ning Jianqiang hopes that in the future can continue to work together with Topstar to provide professional and efficient solutions for intelligent home appliance industry enterprises.