With love at heart, forever young – the story of Zhong Jiajun
2022/01/11 By topstar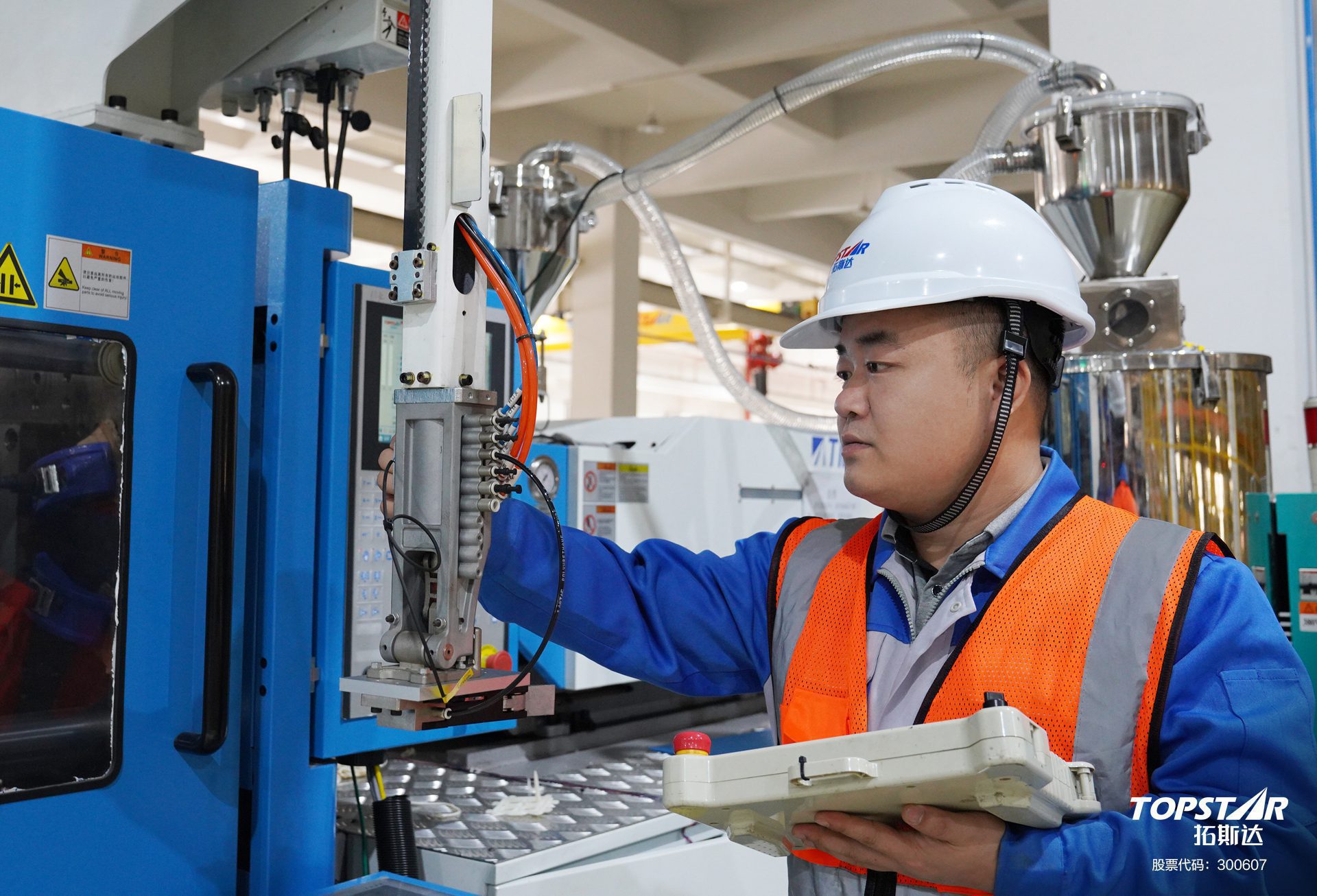 "Dear, today is your 2190th day as a Topstar, we fought together 52560 hours, walked through 6 spring, summer, autumn and winter, thank you for choosing to work hand in hand with Topstar ……" This is an anniversary card. On December 18, this blessing was delivered to Zhong Jiajun. He has ushered in his sixth anniversary at Topstar.
Six years ago, he was a fledgling fresh graduate, full of enthusiasm into the Topstar. Six years later, he has become a regional director but also harvested the company's highest annual honor awards. Zhong Jiajun with teenage love, with six years of time to practice responsibility and commitment.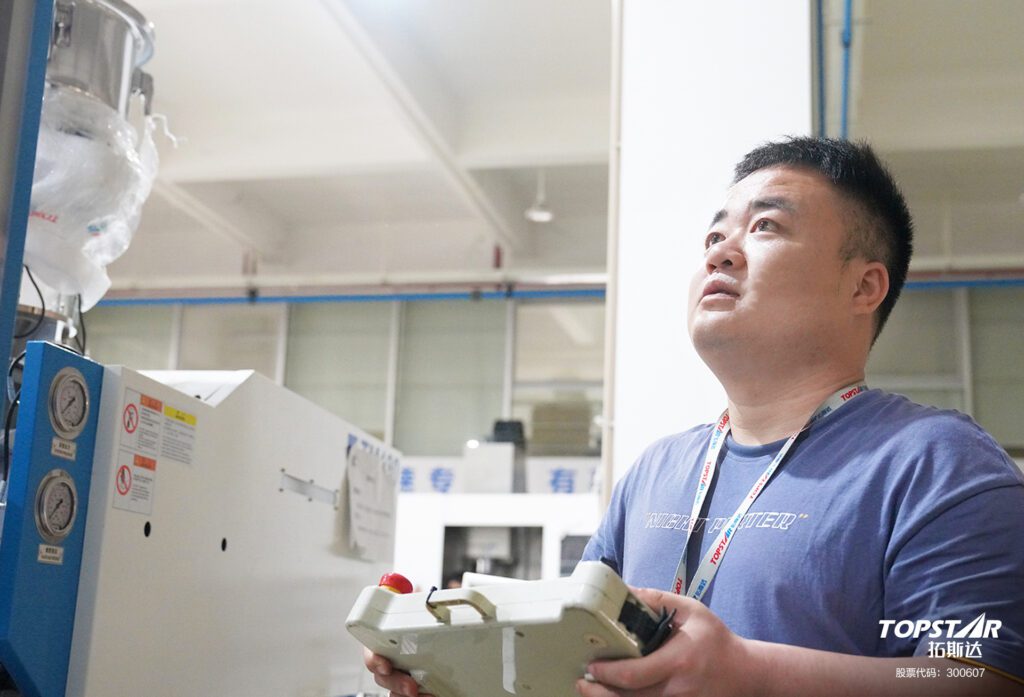 One glance for six years
"It all started with just one more look in the crowd." Zhong Jiajun's relationship with Topstar began six years ago at a campus job fair. "I did not expect that this glance, is six years." He laughed. Zhong Jiajun, who has been interested in machinery since childhood, decided to choose the mechanical design and manufacturing and automation major during his college years, hoping to acquire a skill, and after graduation, he can put it to use and join the machinery industry he loves. In the campus job fair, Topstar caught his attention. So, with curiosity and longing, he came to Topstar for an internship. When he saw the robots in the workshop, he was ecstatic and made up his mind: "This is it!"
In the eyes of many people, after-sales service may be a hard and tiring job and even be looked down upon. But Zhong Jiajun doesn't think so. In his mind, after-sales service is a very interesting thing. He enjoys the joy of working with his hands and the happiness of being recognized. Despite his apprehension and lack of confidence, Zhong Jiajun has grown and transformed through practice and exercise time and time again. From the installation and commissioning of a bullhead robot to the handling of a component noise, he does not miss every opportunity to learn and practice. From a trainee to a formal employee, from the newcomer to the regional after-sales person in charge, he spent six years with Topstar to grow rapidly. Over the past six years, most of the partners who joined with him have chosen to "change the track", while Zhong Jiajun is as firm as ever in this. "Topstar, for me, is the company, but also the platform." He said, "Because of the love, so persistent. Meet Topstar, I am very lucky."
A business card
Topstar declaration has such a phrase – we have a common name "Topstar people", each Topstar people to take care of two signs: one is Topstar, one is their own name. Six years in the industry, Zhong Jiajun has always been to "after-sales service into a bright card of Topstar" as its mission. 2019, a customer in Zhongshan affected by typhoons, heavy rains and other extreme weather, more than 40 sets of equipment in the plant water system paralysis, electrical short-circuit, even the pumps have been burned, simply can not produce. Zhong Jiajun received a call from the customer and immediately rushed to the scene. He described, "The customer's request was very urgent, hoping that we could fix it on the same day, but the situation on the site was really bad, and we had no bottom in our hearts at that time, so we had to do our best." So, together with his colleagues, he worked methodically with the customer to deal with the malfunctions such as water storage in the electric box, short circuits of electrical appliances and burnt out pumps one by one. At night, in the case of a power outage in the whole factory, one of them played a flashlight, one of them repaired, cooperated, and continued to rescue the paralyzed equipment by a little light in the rain.
From 10:00 am to 11:00 pm, for more than 13 hours, they finally completed the comprehensive repair of the equipment and the circuit reset test of the supporting equipment, helping the customer to resume production and avoiding the delay of the order delivery. For Zhong Jiajun, whether his hands are covered with oil or sweat, he does not care but is more concerned about the customer's recognition. The smiling face of the customer after each problem is solved will be deeply burned in his heart and become the firmest support in his heart. As a result of this outstanding performance, together with Zhong Jiajun returning to the company, there was also a letter of thanks from the customer and a repeat order. His heart, in exchange for the customer's peace of mind. "Topstar after-sales service" this business card is once again polished.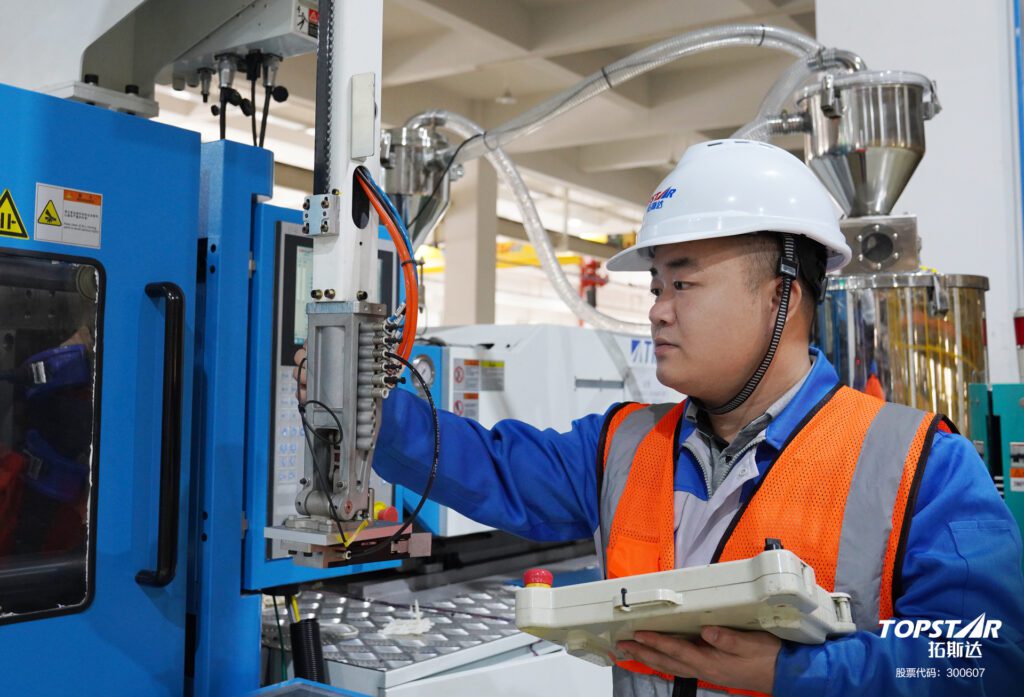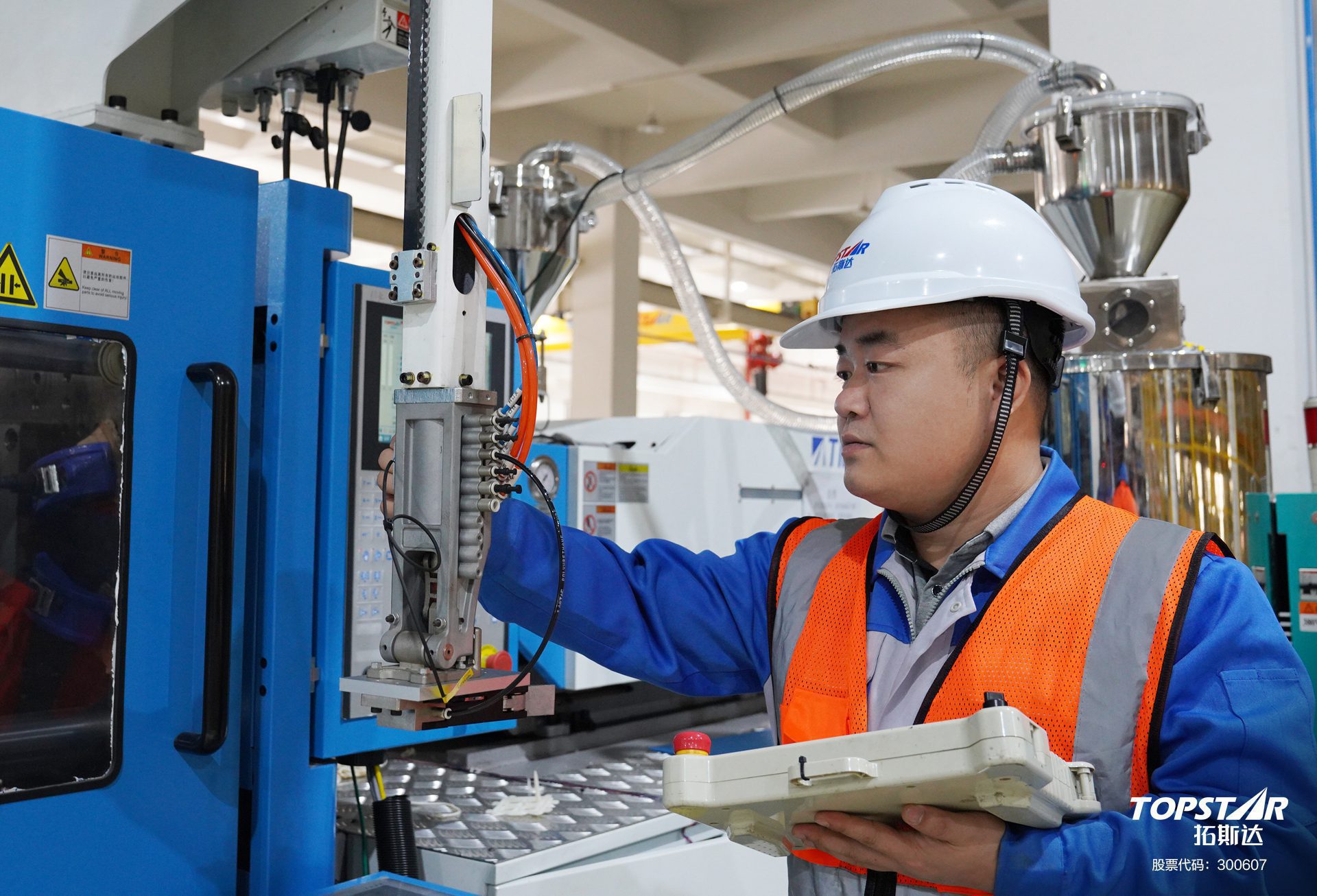 A responsibility
At the beginning of 2020, the new crown epidemic broke out worldwide, the company quickly made strategic adjustments and put all staffs into the production work of epidemic prevention. To ensure normal production for customers, Zhong Jiajun and other after-sales brothers shuttled between all kinds of equipment and parts. Facing the time constraint and the unpredictable future, they did not flinch and stayed up all night to learn the assembly and debugging of the new equipment, so as to be fully prepared for running to the customer's site. After the intense and orderly training and learning, Zhong Jiajun, as the first batch of first-line commissioning engineers, led the team to go to all over the country to provide after-sales service for customers. Even though he was afraid inside, he did not forget his responsibility and still chose to go forward with determination.
From Henan to Hebei, from Beijing to Tianjin, from Shanghai to Jiangxi, over a period of 3 months, he set foot in 8 provinces, serving dozens of customers, and never stopped, and became one of the "most beautiful retrograde" of Topstar. He still clearly remembers that the airfare from Beijing to Shanghai is only 100 yuan, and even experienced a "charter" special treatment. This experience, he will never forget. Even though it was tiring, he still enjoyed it. "Treat every business trip as a trip." This was his father's encouragement to him, and it has become his life's credo.
"95 consecutive days without a break during the peak production period", "activating 49 customers to repurchase", "enabling customers to return to purchase equipment for more than 1 million"… …Behind these bright achievements is the sweat Zhong Jiajun has put in, and moreover the value he has created for himself, for customers and for the company. At the beginning of 2021, Zhong Jiajun stood out among more than 3,000 employees in the company and became the only winner of the 2020 Topstar highest honor award "President's Special Award", winning a loud applause for his life.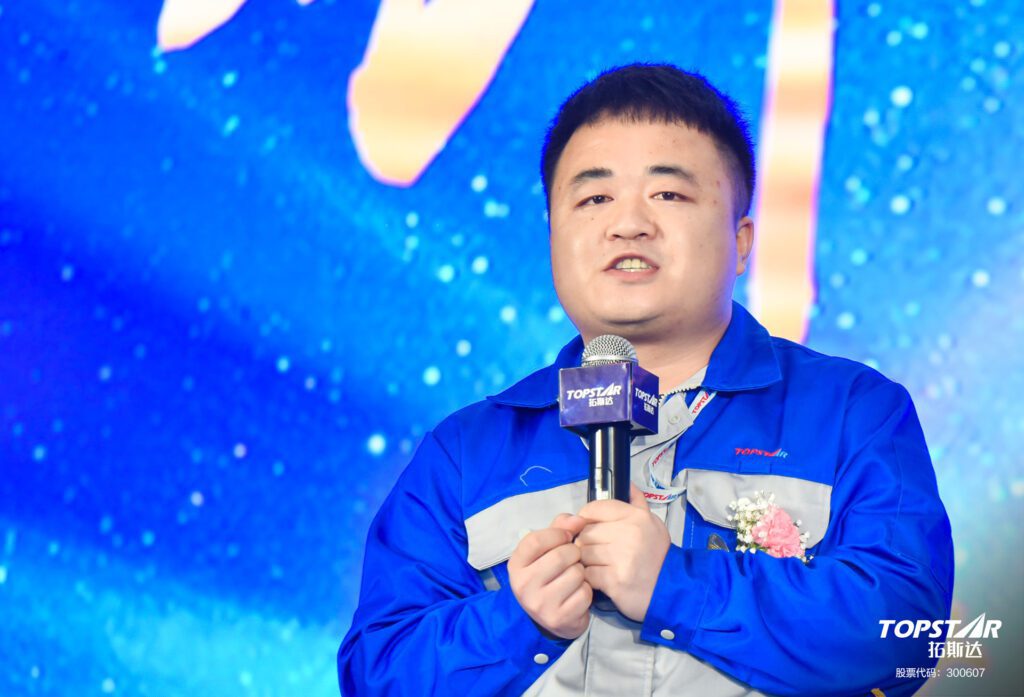 Honor plus, often breeding new responsibilities. For Zhong Jiajun, the cultivation of an "active, efficient, fast, professional" after-sales team, the Topstar "four fast" concept to more after-sales people, in the direction he wants to work in the future. Six years of experience to nourish his growth, with love at heart, he will always be young. The road ahead is still long, the younger will carry the mission of "wholeheartedly for customer service" with the after-sales partners, and continue to meet the challenges, whether it is a beautiful wind or a storm, may the teenager keep himself and move forward with determination.